Building on my previous look back at horses born in Egypt many years ago, let us continue to review some of the remaining elements of Egyptian breeding which will add to the quality and genetic choices for today's straight Egyptians.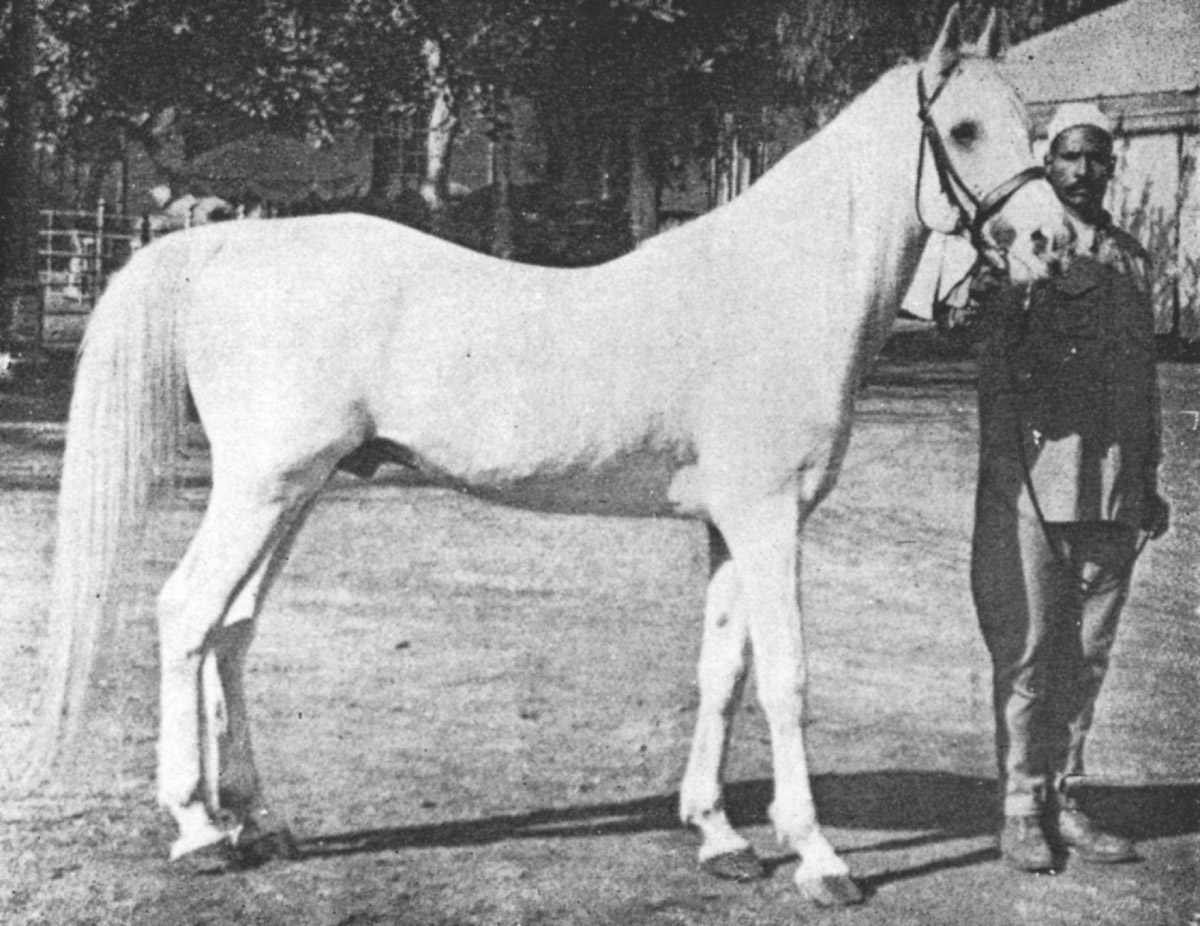 Kheir (Ibn Samhan x Badouia) 1924 grey stallion,
Ibn Samhan's first son and the main part of the rare Ibn Samhan sire line.
Forbis collection.

In the last newsletter we talked about the Ibn Rabdan branch of the Jamil El Kebir sire line. The other branch of Jamil El Kebir is the Ibn Samhan branch. Ibn Samhan was a chestnut stallion born in 1919 at the R.A.S. during its early years. His sire Samhan, was given to the R.A.S. by Prince Mohammed Ali and the pedigree was well regarded since Samhan was a brother to Dalal Al Zarka (the female line of Moniet El Nefous among others). Ibn Samhan's dam, Nafaa El Saghira produced Mansour, the sire of Nazeer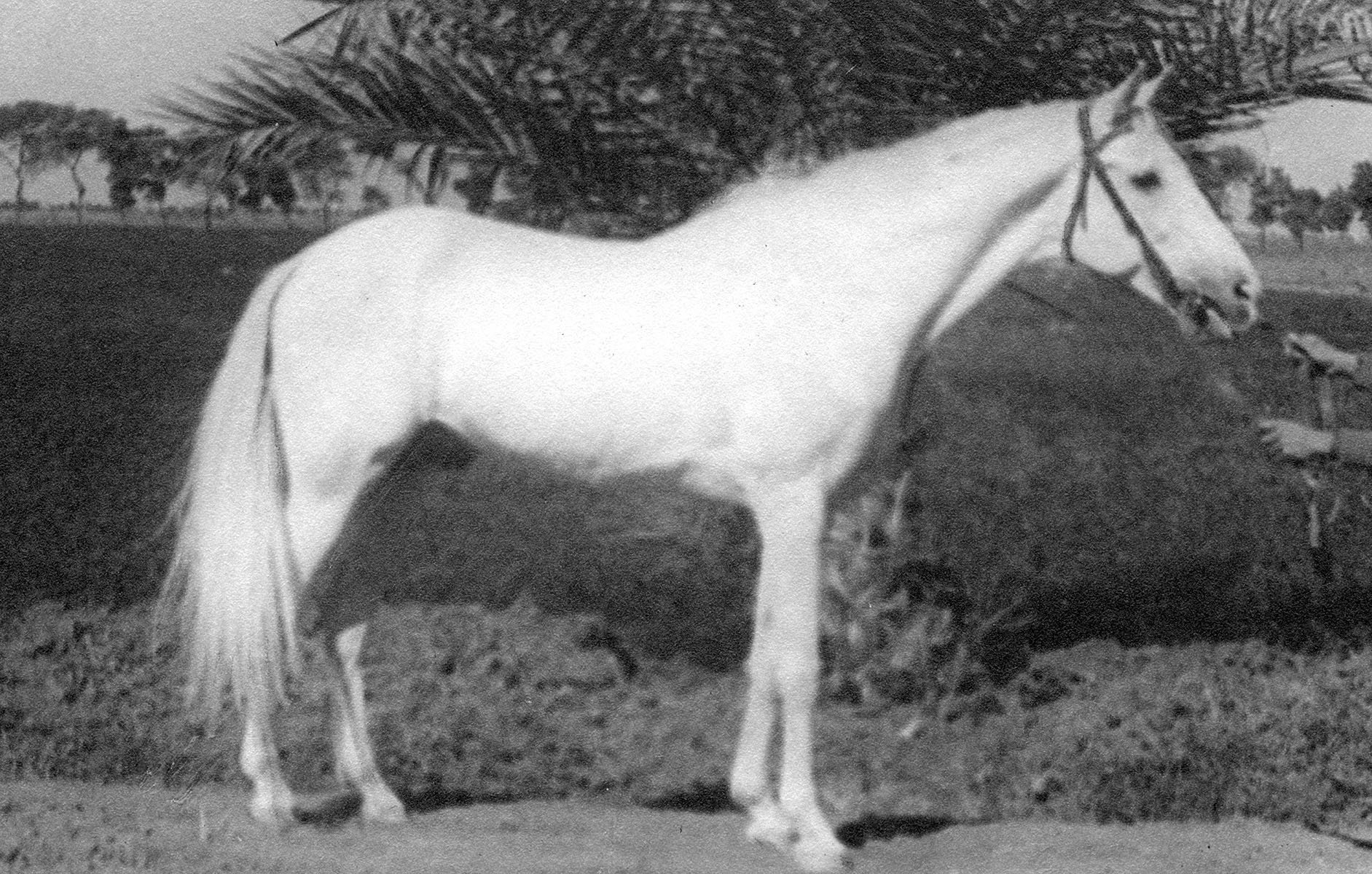 Balance (Ibn Samhan x Farida) 1928 grey stallion,
Egypt's most famous race horse and the rarest of the Ibn Samhan sire line.
Forbis collection.
The Ibn Samhan branch of the Jamil El Kebir sire line has two key progenitors: (1) Kheir (Ibn Samhan x Badaouia) represented by 1 son, Gassir and his extended lines; and (2) Balance (Ibn Samhan x Farida) represented by 2 sons, Emam and Nasrulla and their extended lines.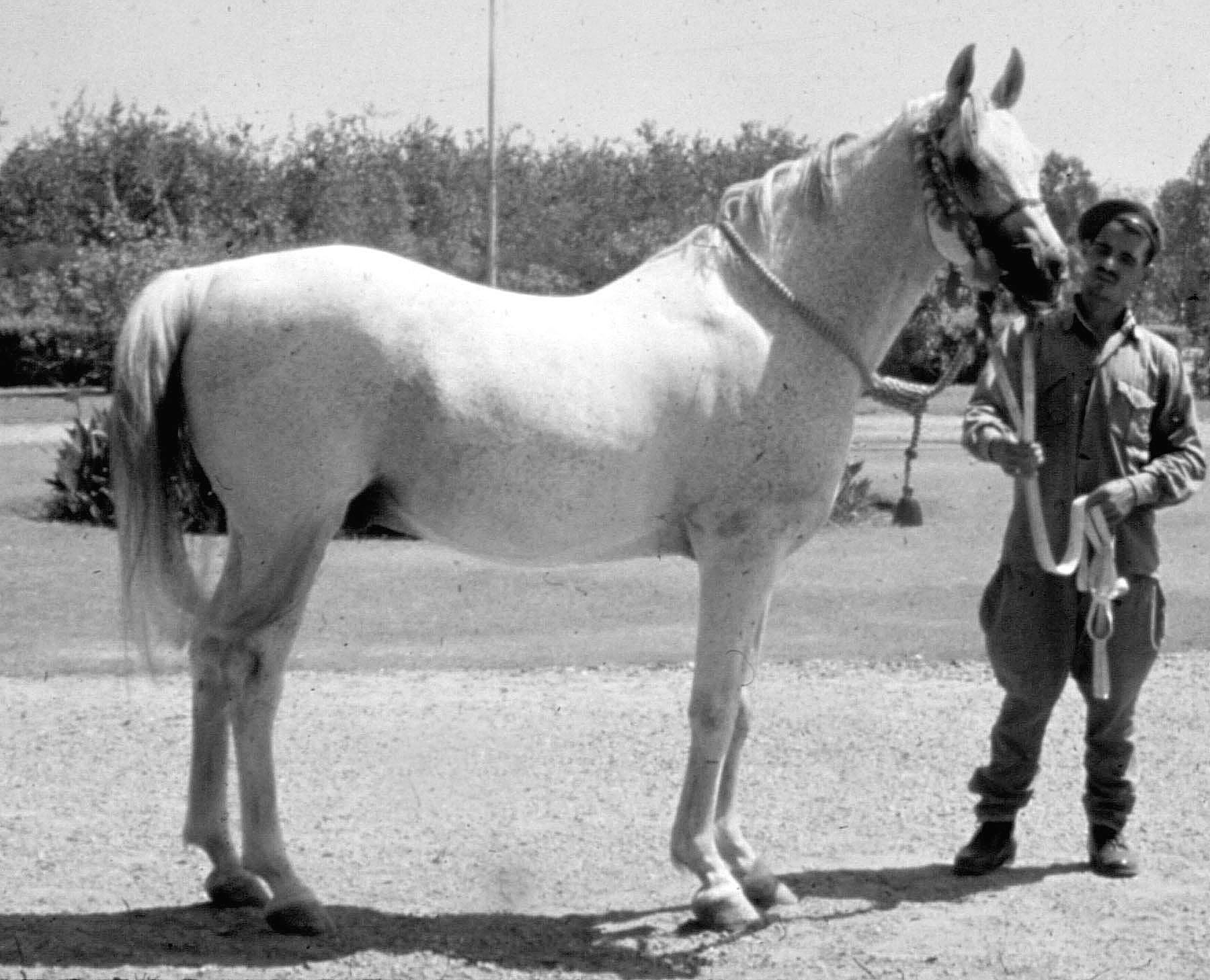 Gassir (Kheir x Badia) 1941 grey stallion,
shown here in old age, he was a principle outcross stallion for the E.A.O.
Forbis photo.
Both Kheir and Balance proved to be good race horses and in fact Balance held the record for the mile for many years. Generally the Ibn Samhan line horses were very athletic. The Ibn Samhan son Zarife (x Mahroussa) was imported to the U.S. in 1932 and became a respected sire of performance horses and his blood is found in numerous American bred endurance competitors. However, with so few Egyptian mares in the U.S. during his time, Zarife left no Egyptian sire line though he is found in straight Egyptians today. Only Kheir and Balance carried on the Ibn Samhan sire line within Egyptian breeding. Yet for all the athletic qualities ascribed to this sire line it has now become quite rare in Egyptian bloodlines.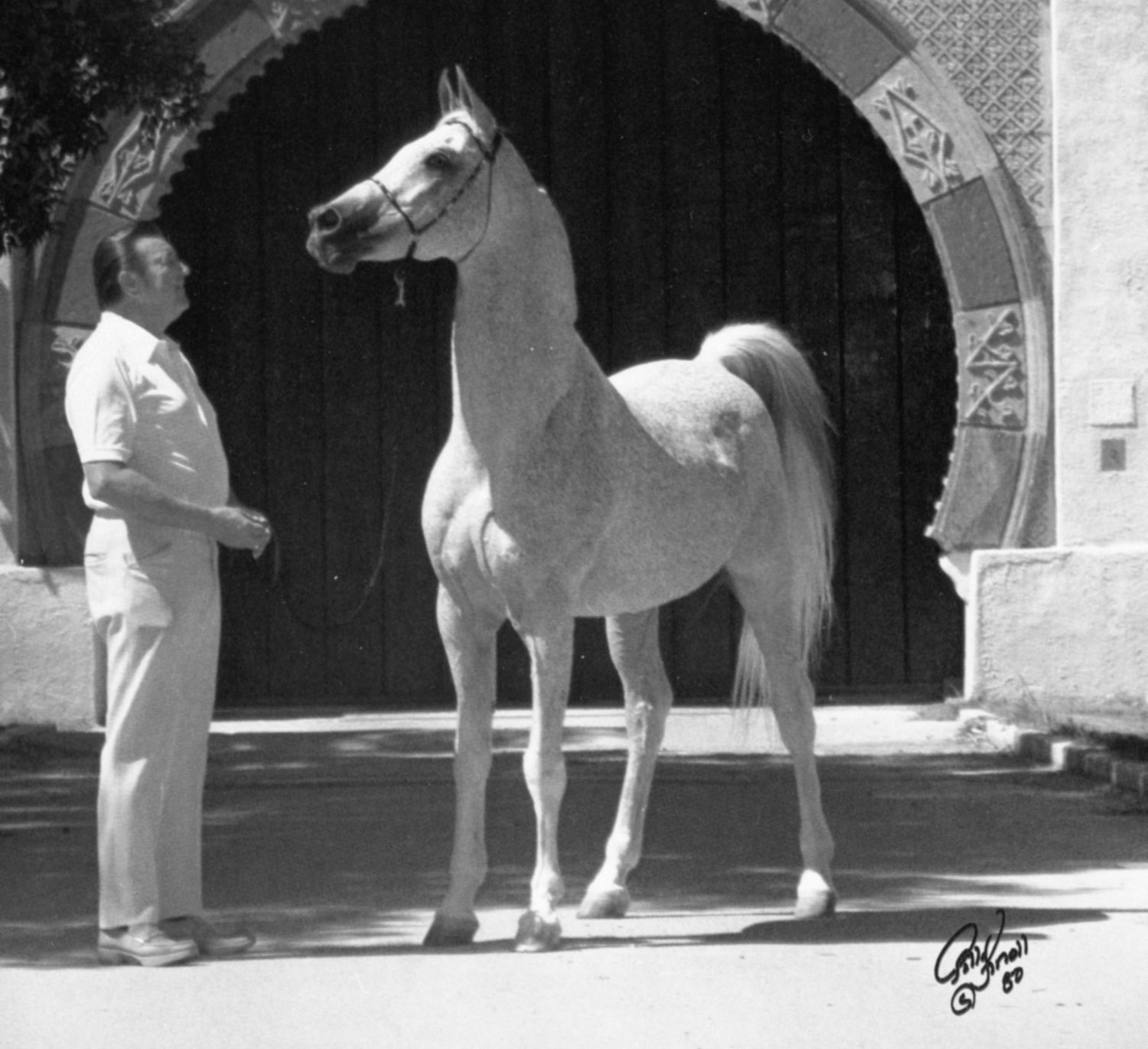 Zaghloul (Gassir x Gharbawia) 1963 grey stallion
pictured here in old age with his importer Douglas Marshall of Gleannloch Farms.
Imported as an outcross for Gleannloch mares.
Polly Knoll photo.


Kheir was Ibn Samhan's first born son and has managed to carry the main portion of the Ibn Samhan patriarchy through his son Gassir, an important sire for the RAS. A Dahman Shahwan stallion of the Bint El Bahreyn family, Gassir has three sons, Zaghloul (x Gharbawia), Sabeel (x Shahbaa) and Mourad (x Mabrouka) to carry on for Kheir's patriarchy. Sabeel's full brother AK Shahm was imported to the U.S. and while he left Egyptian daughters, he left no sire line. Sabeel sired two stallions who came to America, GAF Hossam (x Mouna) and Lancers Sahm (x Aziza). Both of these stallions were very handsome and high quality however the male line to these two is thin. Lancers Sahm is most known for his beautiful champion producing daughter PH Safina (x Noufina). Most of Zaghloul's influence comes through his daughters such as Asmarr, the grand dam of the renowned and heavily used stallion Thee Desperado. But Zaghloul also has a patriarchy carried by his handsome son Ibn Zaghloul (x Bint Mona), a source of numerous black Arabians. Kheir also sired the beautiful stallion Fadell out of the legendary Bint Radia and he was exported to the U.S. and while he is found in Egyptian pedigrees there is no sire line to him.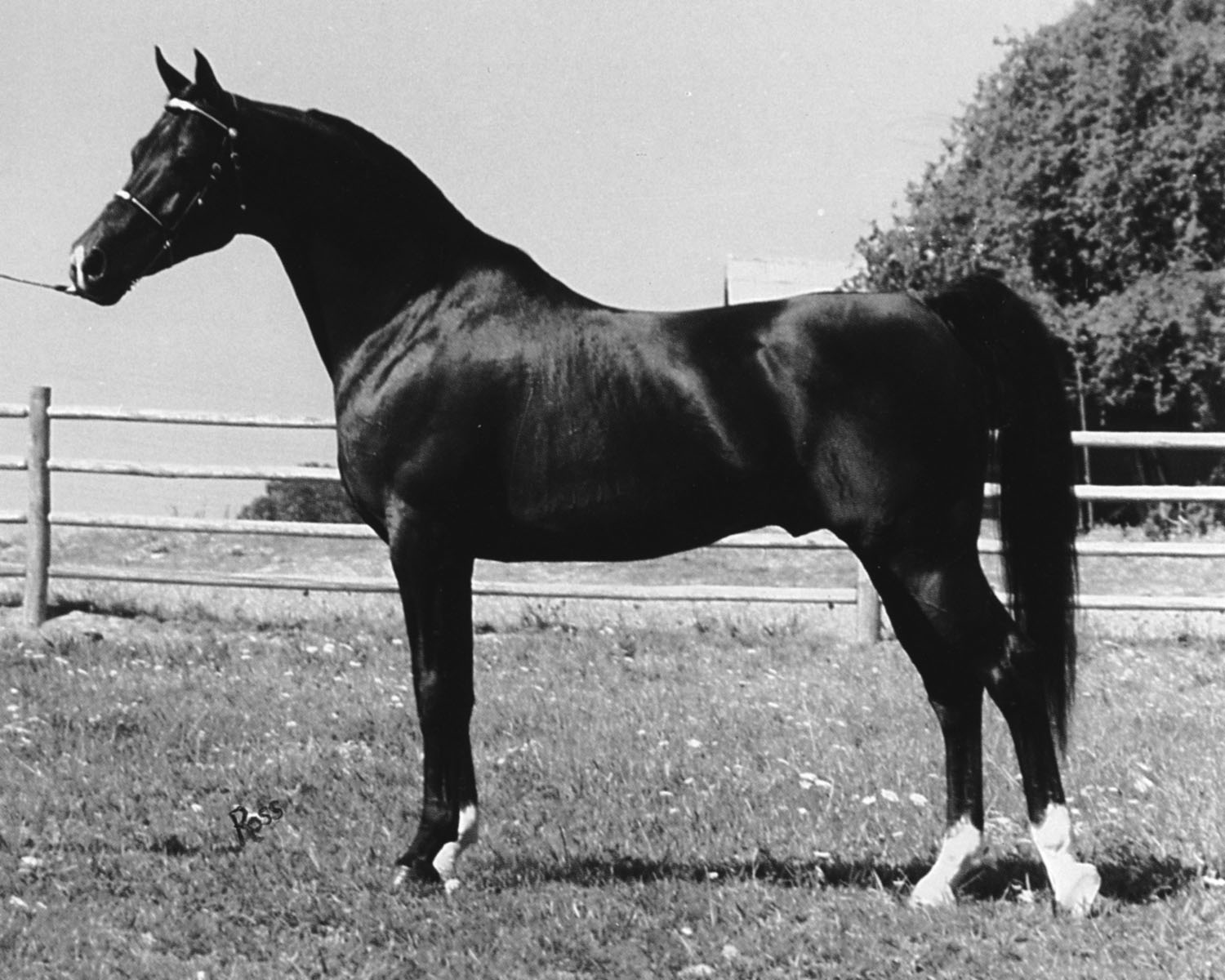 Ibn Zaghloul (Zaghloul x Bint Mona)
1976 black stallion bred by Gleannloch Farms.
Ross photo.
In Egypt, Kheir's branch continued successfully via Gassir's beautiful son Mourad, a paternal half brother to Morafic. Mourad has 10 sons to represent him that each have produced a number of sons themselves to carry on. Certainly one of the most popular sons of Mourad is the celebrated E.A.O. sire Serag El Din. A very handsome and beautiful moving horse, Serag El Din is out of the supreme broodmatron Safinaz, considered the second Moniet El Nefous in type at the E.A.O. From Mourad's sons Egypt remains the primary source for the Ibn Samhan sire line which is relatively rare elsewhere.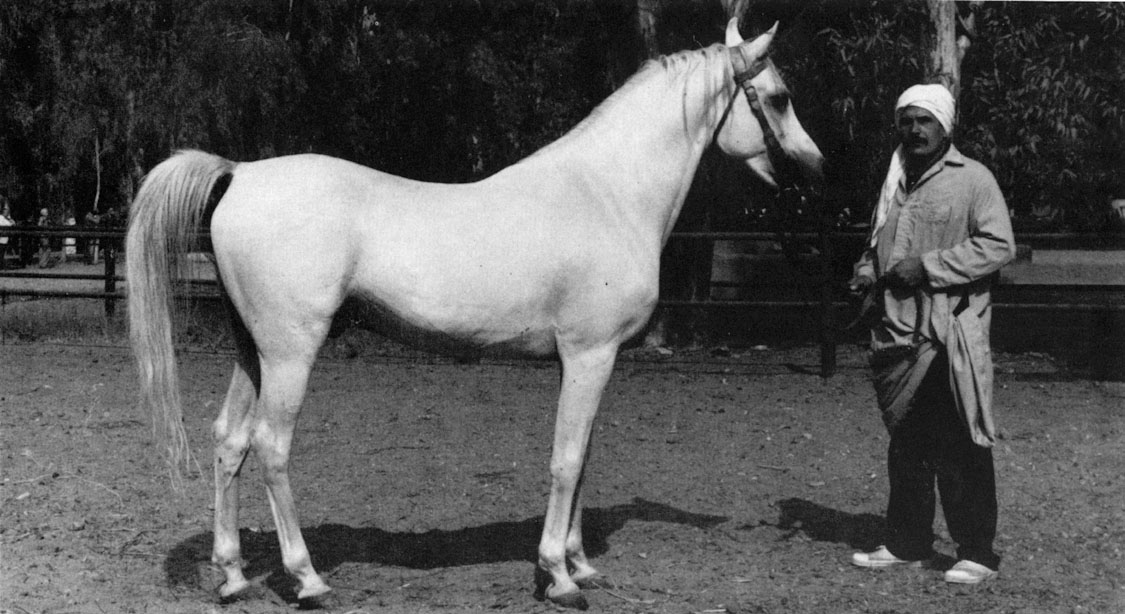 Mourad (Gassir x Mabrouka) 1968 grey stallion.
A very handsome stallion, he became the primary male line successor to Gassir.
Pat Canfield photo.

The rarest branch of the Ibn Samhan sire line comes from one of Egypt's most famous and celebrated race horses, Balance. A horse of superior conformation but lacking in Arabian type, Balance's fate as a sire would fall to his daughters since he became a good sire of mares. His daughters, Bint Zareefa, Yaquota, Nefisa, and Zaafarana are now famous ancestors in the pedigree of many international champions. Yet his few sons produced some excellent horses though the male line to Balance appears heading to the history books unless some far sighted breeders take note of some good choices available.
Balance sired Mozzafar (raced as Wanis), a 1945 bay stallion out of Hind, the dam of famous Yosreia. A son of Mozzafar was imported to the U.S., Ibn Wanis (x Binte El Bataa) but he died young and no male line exists from Mozzafar.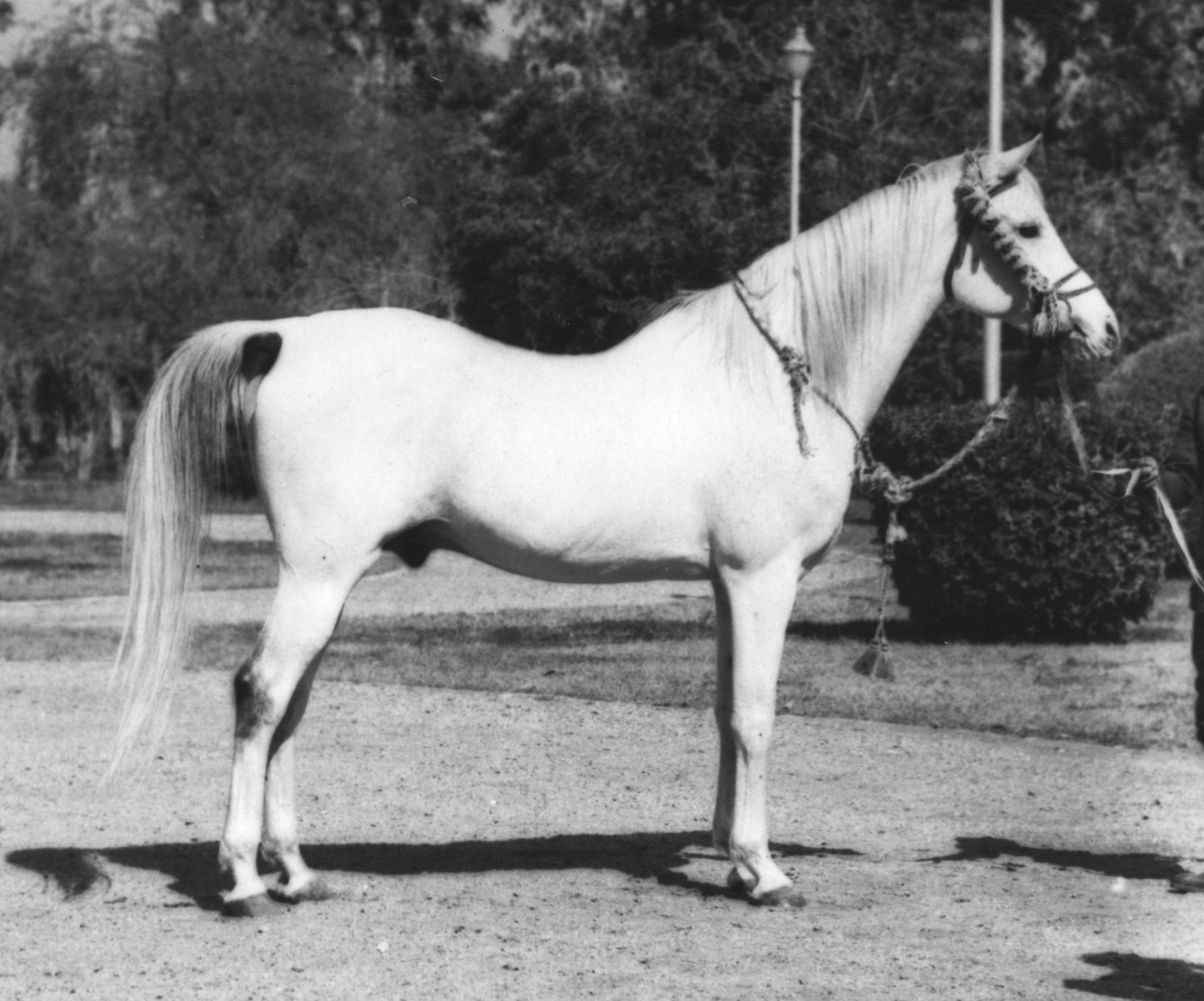 Nasrulla (Balance x Sehr) 1956 grey stallion
pictured in old age, a handsome horse that raced very well in Egypt.
While the male branch to him still exists in Egypt, it is very rare.
Forbis photo.

The two male lines that carry on the Balance patriarchy are his sons Nasrulla (x Sehr) and Emam (x Komeira). Both come from respected dam lines, Nasrulla's dam being from the same family that produced Gharib (Anter x Ghariba) and Emam being from the same family that produced the lovely Tamria (Tuhotmos x Kamar). Nasrulla (race name is Shahriar) was a handsome horse who raced well and sired race winners. Likewise for Emam, both being better looking than their sire. Nasrulla remained a sire for the E.A.O. and sired mostly mares, having few sons. His daughters proved excellent producers and are now found in many champions world wide. But it appears that his only male line continued in Egypt very narrowly through Nasralla's two sons Moataz (x Enayat) and Amoon (x Naama). In America he has no male line however Nasrulla is widely prevalent via his daughter Baheia (x Hemmat) in the pedigree of famous sire The Minstril among others.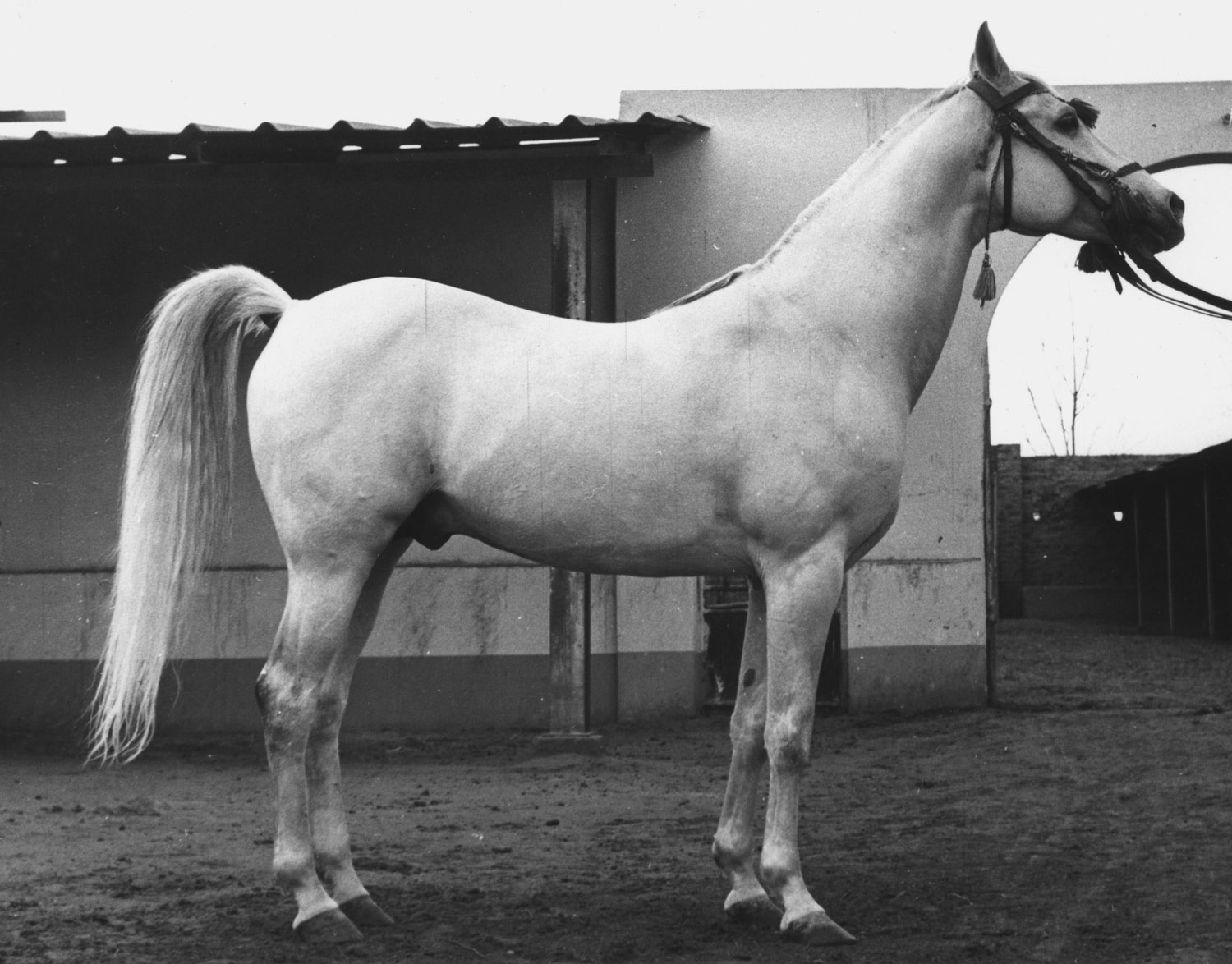 Emam (Balance x Komeira), another swift runner by Balance,
Emam got few sons with only Fawzan and Marshall II representing him in male line.
Forbis photo.




This leave Emam, a 1945 grey stallion bred by the R.A.S. to carry the other branch from Balance. Emam (race name is Amlam) was raced successfully and was owned by the famed Hamdan Stud in Egypt. A handsome stallion with big dark eyes and built for speed, Emam has just two sons to carry on. His son Fawzan (x Foze) was imported to the U.S. by James Kline, famed for his other stallion Talal (Nazeer x Zaafarana). It was hard for Fawzan to compete with his more famous son Talal but nonetheless sired some excellent horses and true to the Balance line seems to be more represented by daughters than stallions. However, he sired a truly beautiful son named Falzan (x Falmona), a handsome chestnut who had a successful show career. Falzan is well bred in that his dam Falmona (Faleh x Bint Mona) is grand dam of the splendidly beautiful MB Moneena with Judith Wich in Germany and MB Moneena is also known for producing the multi international champion Ansata Qasim (x Farres). Had Falzan been given a greater opportunity for breeding Egyptian mares, the Balance Egyptian sire line in America would be confidently guaranteed. However Falzan is the sire of a handsome stallion that I saw upon several occasions, uniquely named Last Chance Too (x LE Kameesha Amira). Though an older horse now, Last Chance Too has two young straight Egyptian sons and also a younger full brother, WF Amir Ibn Falzan. This is promising when one considers that this may be the "last chance" for maintaining the sire line coming down from the legendary Balance.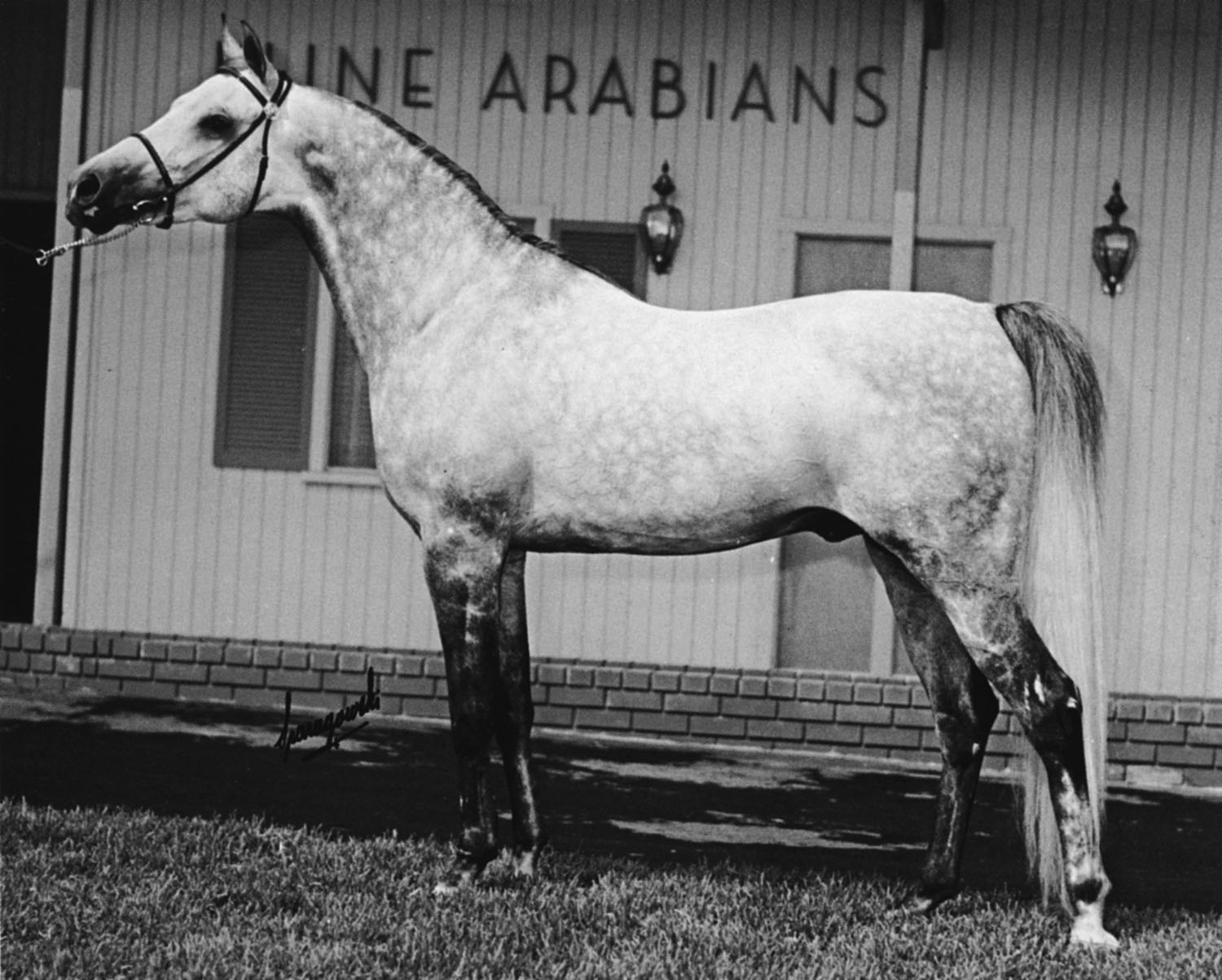 Fawzan (Emam x Foze) imported to the U.S. by James Kline
as an outcross to his famous Nazeer son Talal (x Zaafarana).
Jerry Sparagowski photo.




Emam's other son Marshall II (x Bint Folla) has but a thin line left from his son Ibn Jou (x Faten) who is in Qatar. The 19 year old Ibn Jou has but one Egyptian son currently, Sakab Al Khaleej (x Bint Rahamat) who is himself 11 years old. Given the number of beautiful Egyptian Arabian mares in Qatar, it might be worth considering such a mating for a colt or two to preserve the sire line to Balance in that country.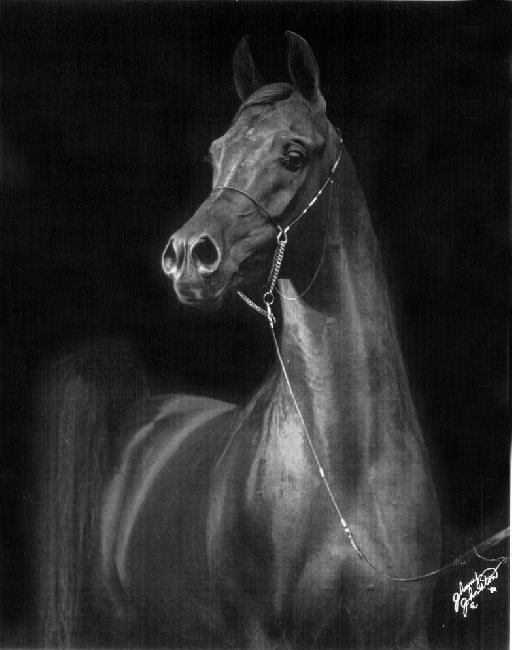 Falzan (Fawzan x Falmona) a beautiful winning son of Fawzan.
Johnny Johnston photo.




So the Ibn Samhan sire line has had a challenge continuing a patriarchy, though it is a noted part of quality mare lines. The Ibn Samhan horses have long been horses for the horseman, the rider, competitor or jockey. As an outcross, they bear consideration for the future. There are so many beautiful Egyptian mares world wide now that type alone need not be a concern. With the genetic future in mind for the Egyptian horse, alternate sire lines are now a worthy choice to consider for the breeder in today's gene pool.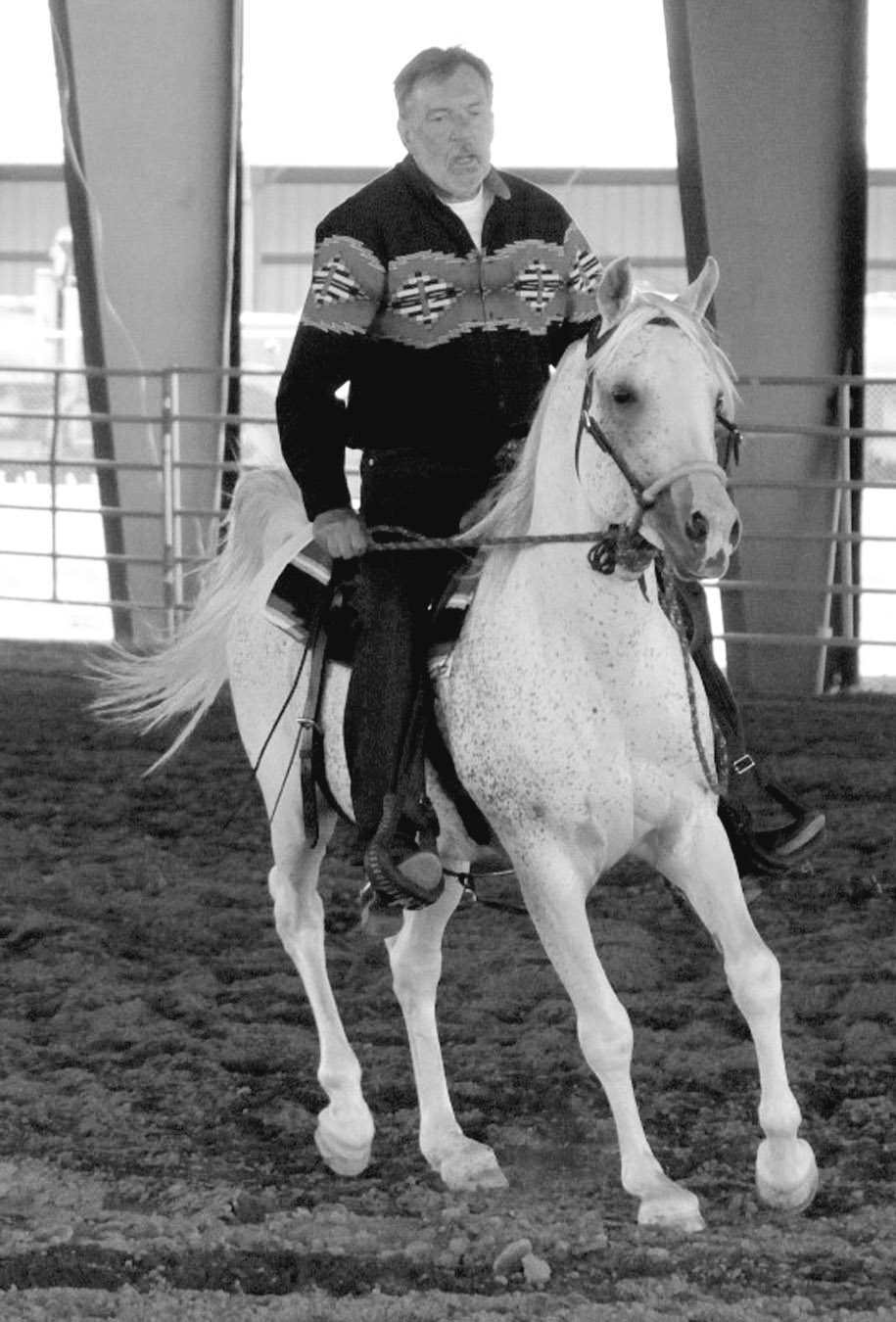 Last Chance Too (Falzan x LE Kameesha Amira)
in person a wonderful horse and one of the last chances
to save the Balance sire line in Egyptian breeding in America.
Karsten Scherling photo.