Anyone who looks back into the ancestral history of today's finest Egyptian Arabian horses, will soon discover that there are certain mares that become very influential and capture the imaginations of many. The magnificent Bint Radia is a part of that legacy, so this is a tribute to her.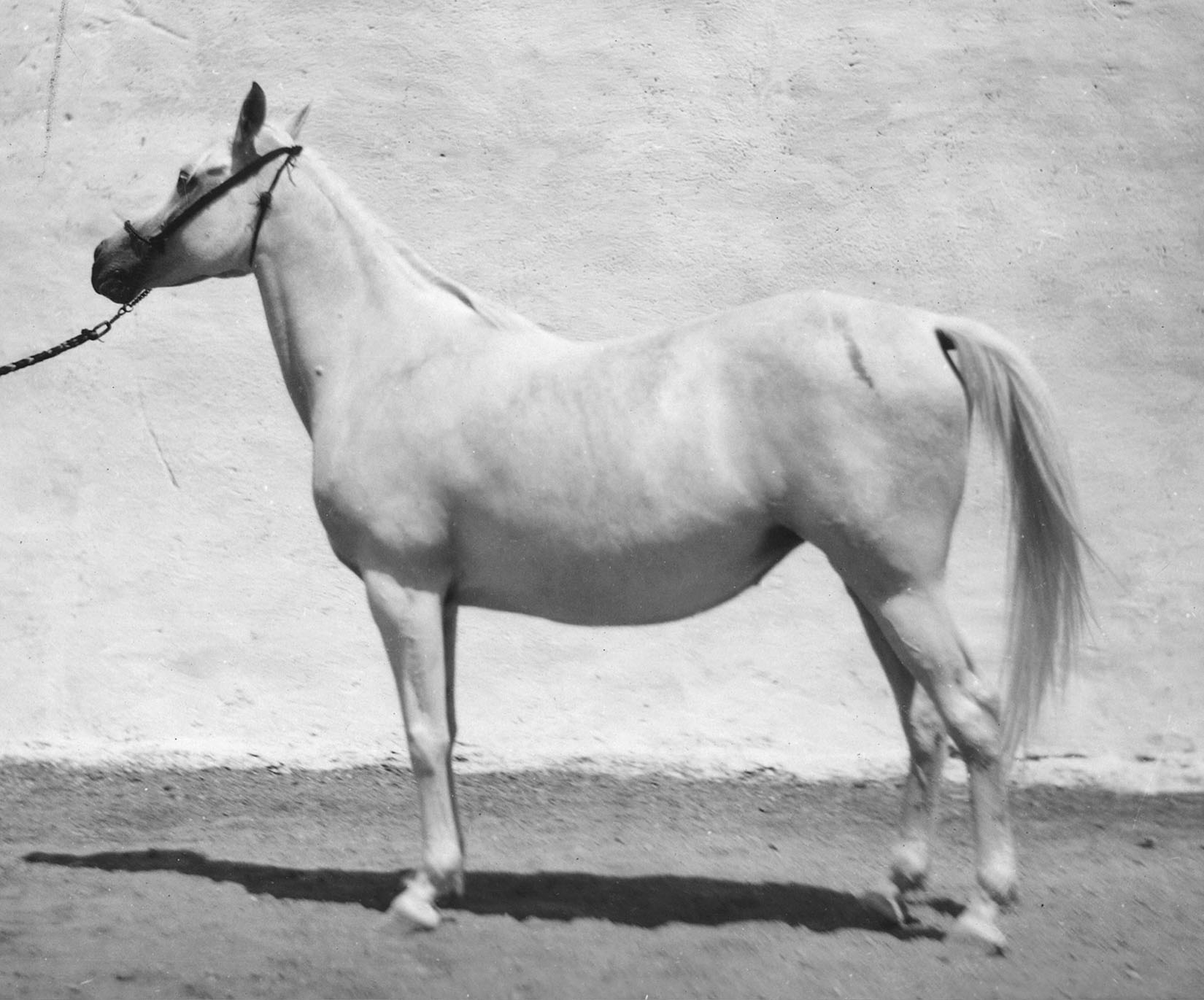 Bint Radia,
a beautiful grey mare born in the early years of the R.A.S.
Forbis archive.

Mabrouk Manial - Sire of Bint Radia

In the early years of the Arabian horse breeding division at Egypt's government stud, The Royal Agricultural Society, (RAS) Bint Radia was born in 1920 from two horses given to the RAS. Her sire, Mabrouk Manial was received from famed Prince Mohamed Ali's Manial Stud. He was a grey horse considered to be of great leg quality and balanced proportions and he was a particularly good sire. His beautiful daughter Mahroussa was one of the most photographed in her time, while his son Jasir became an important sire for Marbach in Germany and his other son Kafifan was a sire in Poland but was lost in WWII. Mabrouk Manial's daughter Bint Gamila RAS would become the grandmother of the stunningly beautiful Barakah, who founded an important line in South Africa. And Mabrouk Manial's daughter Sabah founded one of the most globally influential Dahman female lines, represented by the likes of Bint Bint Sabah, Kamar and Bukra.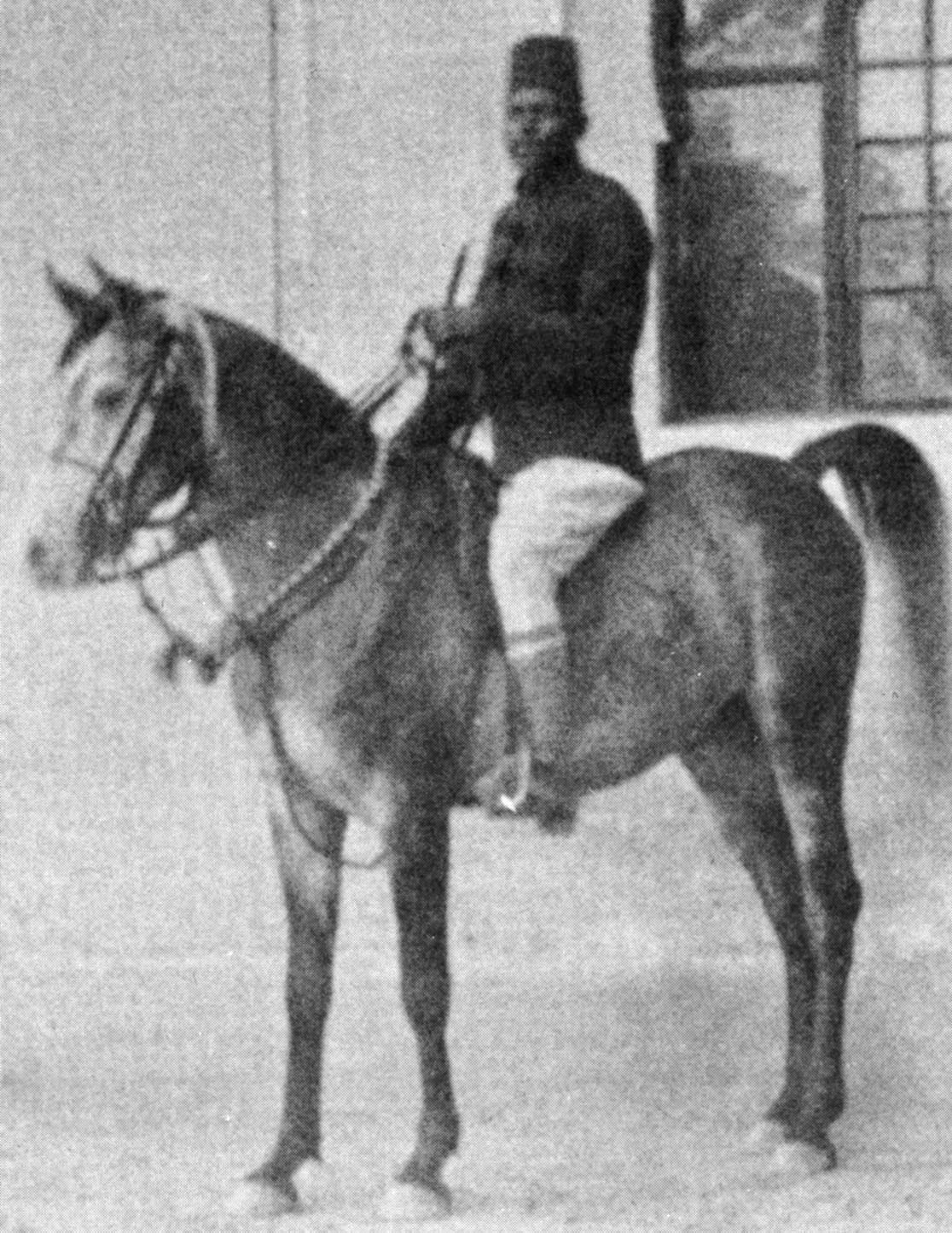 Mabrouk Manial, sire of Bint Radia,
pictured at age 3 at Manial Palace.
From the Prince Mohammed Ali Scrapbook
courtesy of Judith Forbis.

Radia - Dam of Bint Radia

Bint Radia's dam was the very beautiful mare Radia, also known as Ghadia a name given to her by her breeder, the famous Lady Anne Blunt who with her husband Wilfrid established the renowned Crabbet Stud in England and the important Sheykh Obeyd Stud in Egypt. Radia descends from the original Saqlawiyah Jidraniyah mare Ghazieh born 1850 in the fabled stud of Abbas Pasha I ruler of Egypt. Radia was a daughter of the beloved Ali Pasha Sherif mare Ghazala who was born at Sheykh Obeyd in Egypt and left two daughters, Jemla and Radia before coming to America where she was much admired. Jemla would become the female line of Mr. Babson's mare Bint Serra imported to the U.S., while Radia created a celebrated family in Egypt. By all accounts Radia was described for her great beauty and her few photos seem to bear that out. Carl Raswan described her as one of the premier Saqlawi Jidran of Ibn Sudan mares of her time. His photo of her lovely head shows her radiant beauty.





Radia, dam of Bint Radia and a vision of beauty.
She was bred by Lady Anne Blunt at Sheykh Obeyd.
Raswan photo from Forbis archive.


Legacy of Bint Radia

Thus in 1920 a great Egyptian mare was born of two exceptional parents. Bint Radia had 9 foals in her lifetime, 6 sons and 3 daughters. Bint Radia's first foal was the filly Bint Bint Radia, sired by the Tahawi bred stallion Nasr [not the grey stallion Manial also known as Nasr in the U.S.]. The filly grew to breeding age and was bred to Nazeer's sire Mansour at the R.A.S. Thereafter she was sold to Said Zulficar and nothing more became of her. [Her sire Nasr, was exported to the Tunisian government stud and became an important sire in French, Moroccan and Tunisian breeding.]

Bint Radia's second foal was the beautiful stallion Radi (x Ibn Samhan) who was raced for one season with some success, but he was not used for breeding by the R.A.S. It would be Bint Radia's third foal that would become the first of several of her produce to make her a treasured name in Arabian breeding. That third foal is none other than the magnificent stallion Shahloul (x Ibn Rabdan). The R.A.S. knew they had something special and retained him for breeding. Though he sired only 20 registered get, the impact of his famed daughters, Kateefa, Maisa, Bukra, Om El Saad, and Moniet El Nefous, as well as his sons El Sareei and Mashhour, made Shahloul a global source of Bint Radia many times over.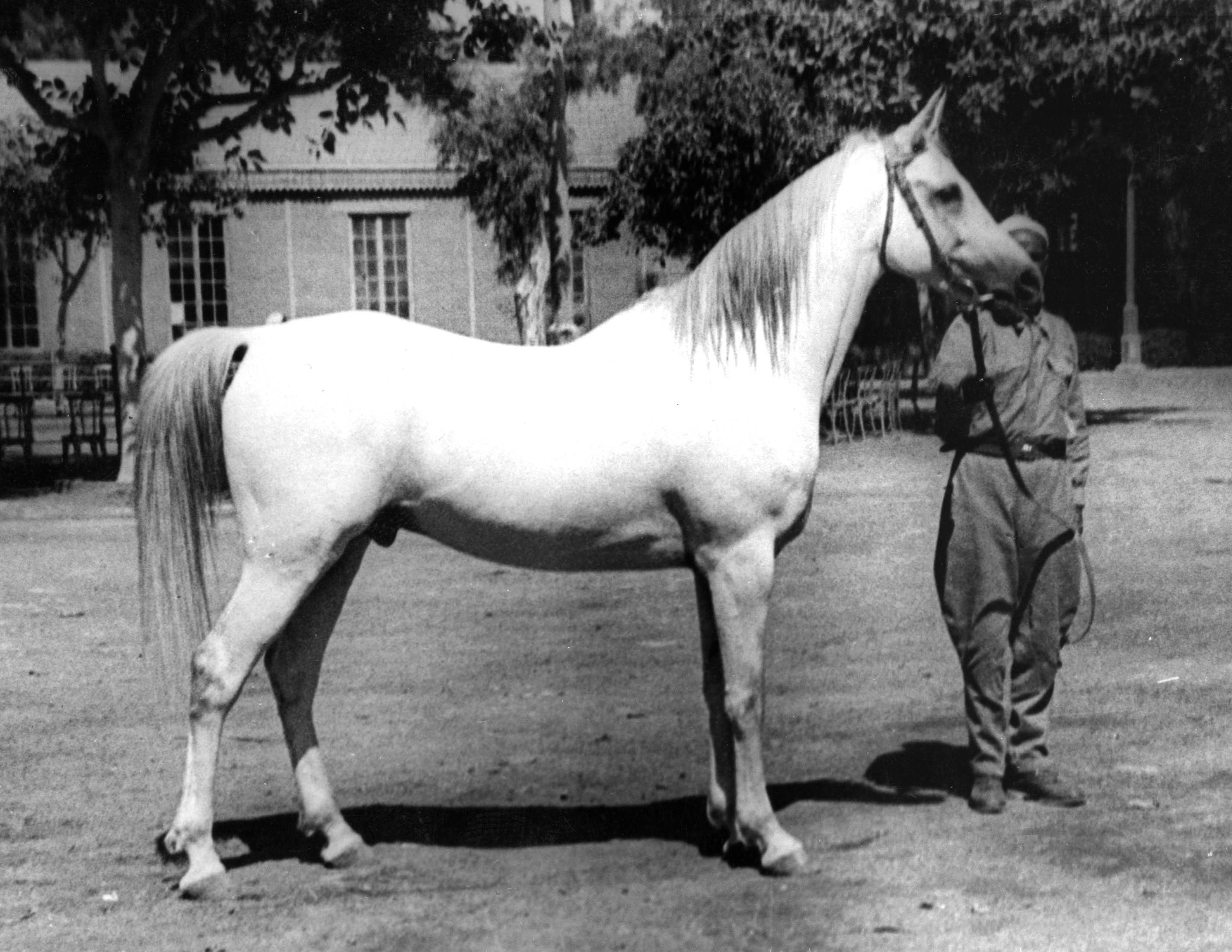 Shahloul, Bint Radia's son (x Ibn Rabdan)
became head sire at the R.A.S. and a sire of superior broodmares such
as Moniet El Nefous and Bukra.
Forbis archive.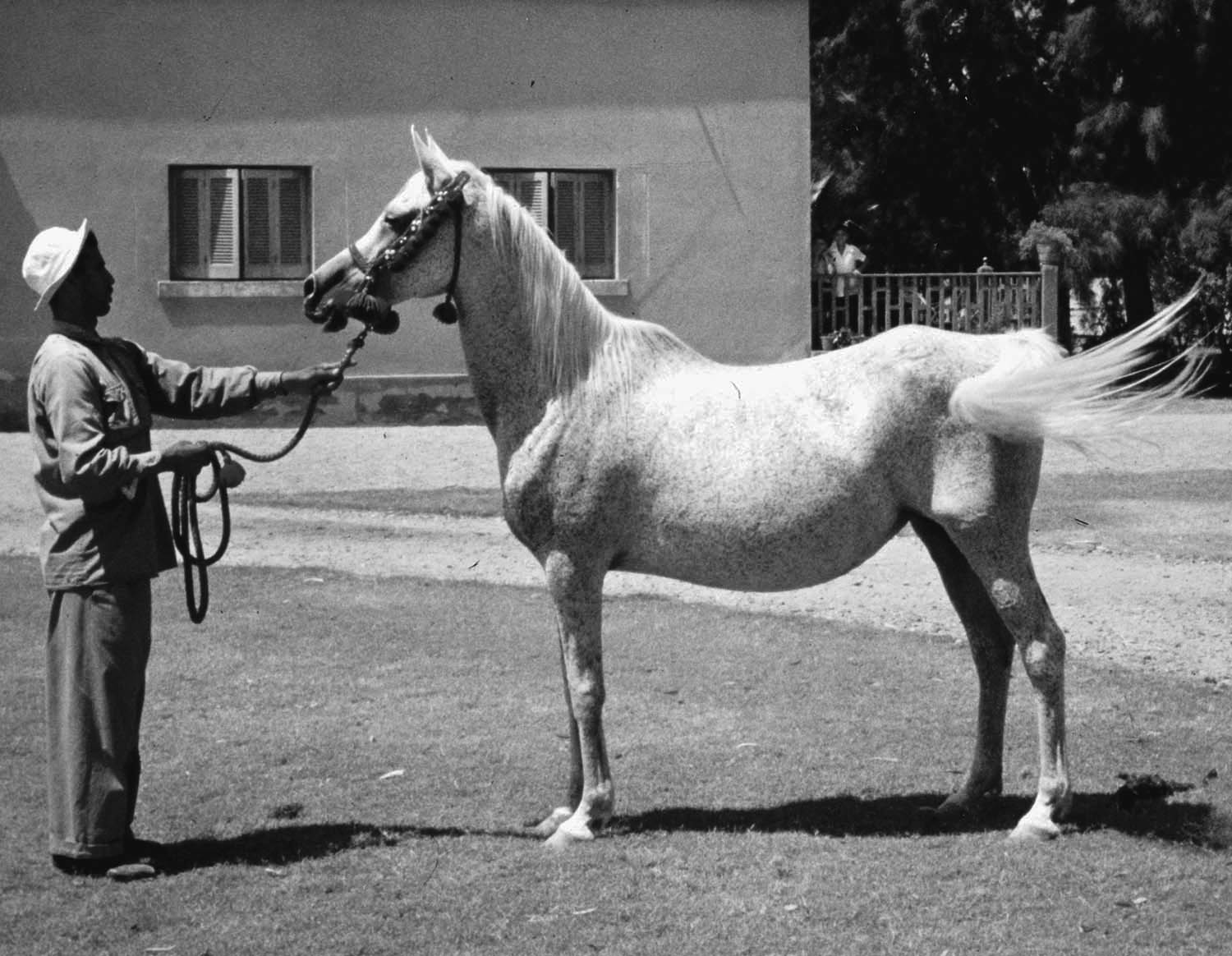 Bint Radia's granddaughter, the splendid Bukra pictured in old age.
Judith Forbis photo.




The Shahloul daughter Om El Saad is a part of the success of world-renowned Albadeia stud, being the dam of their foundation mare Saaida, as well as the granddam of their foundation sire Kayed (double Shahloul). Not to mention the fact that Om El Saad is also grandmother to the splendid U.S. National champion mare and supreme matriarch, Serenity Sonbolah.
When the incomparable queen of Egypt Moniet El Nefous, a Shahloul daughter, was bred to the handsome Shahloul son El Sareei, the result was the spectacular double Shahloul grandson Tuhotmos, a sire of world renown producing 428 foals in his time!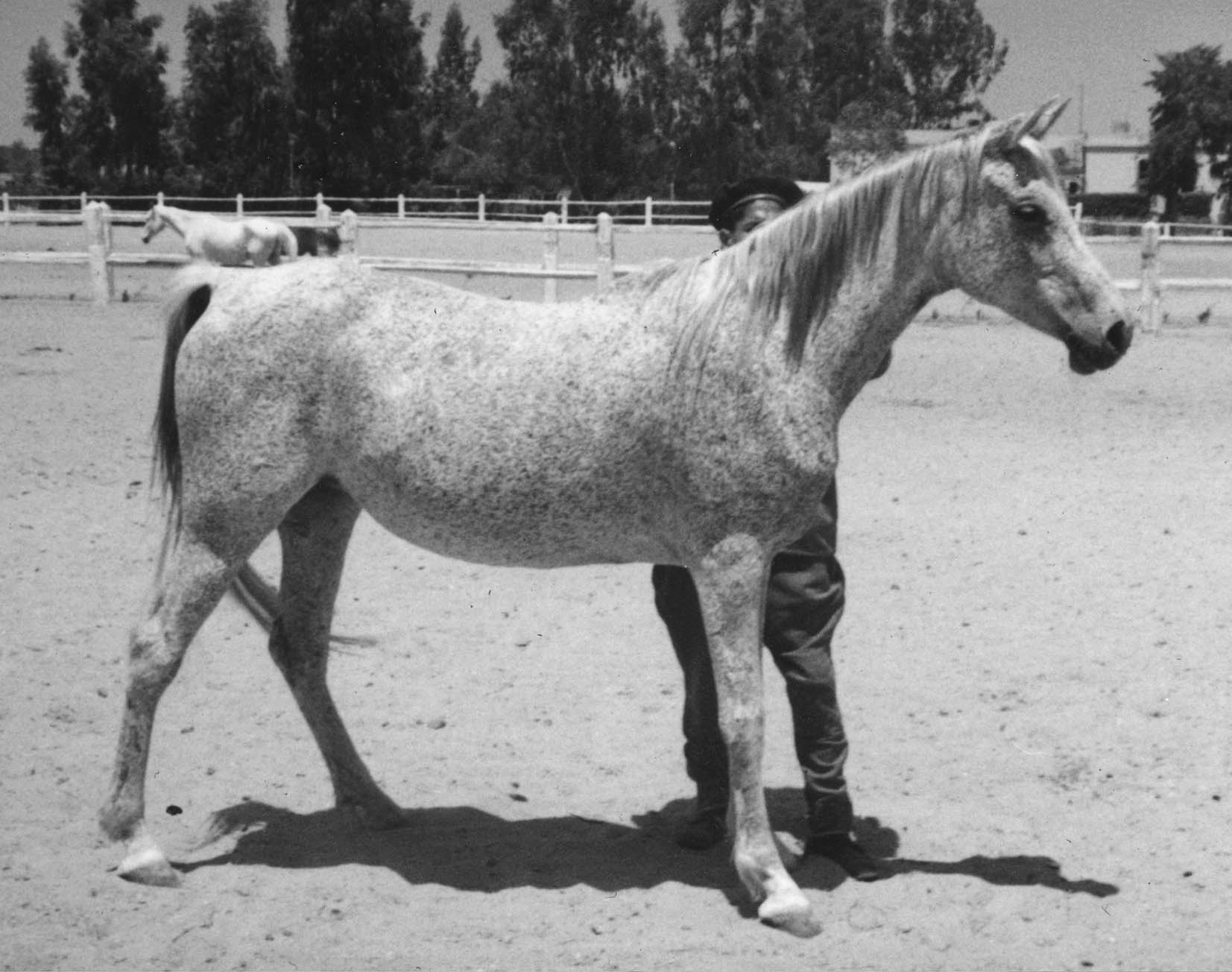 Bint Radia's granddaughter, Maisa, dam
of celebrated Bint Maisa El Saghira,
and of the stallions Ibn Maisa, Ezz El Arab and Madkour.
Judith Forbis photo.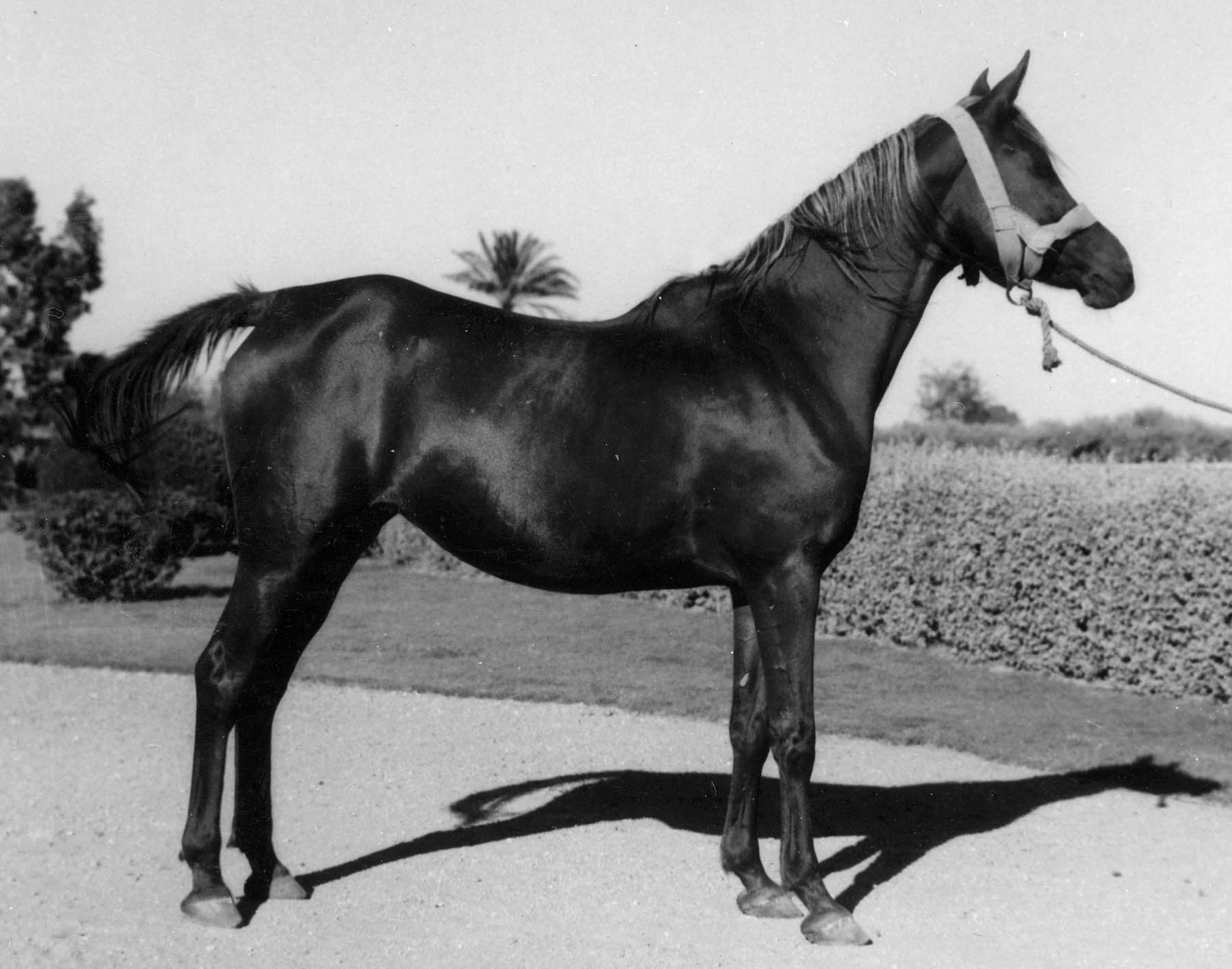 Bint Radia's granddaughter,
the immortal Queen of Egypt, Moniet El Nefous.
Judith Forbis photo.




Consider the facts that Mabrouka, dam of EAO sire Gassir, the legendary Morafic and Ansata Bint Mabrouka, is a Shahloul granddaughter; that Alaa El Din is a Shahloul grandson; that Ansata Bint Bukra and Bint Maisa El Saghira are Shahloul granddaughters, and you can see how quickly the influence of Bint Radia adds up. Bint Maisa El Saghira, being the granddam of world-renowned Ruminaja Ali, Alidaar, and Bint Magidaa, is now in many thousands of Arabian pedigrees of fame all tracing to the beautiful Bint Radia.
The exquisite Moniet El Nefous daughter, Mouna, (a Shahloul granddaughter) was bred to the magnificent Shahloul grandson Alaa El Din 4 times producing the incomparable mares, Fayrooz, Moneera, Mahlaha, and Mahiba, all double Shahloul mares. And without the great Mahiba there could be no Imperial Madheen (with 9 lines to Shahloul!).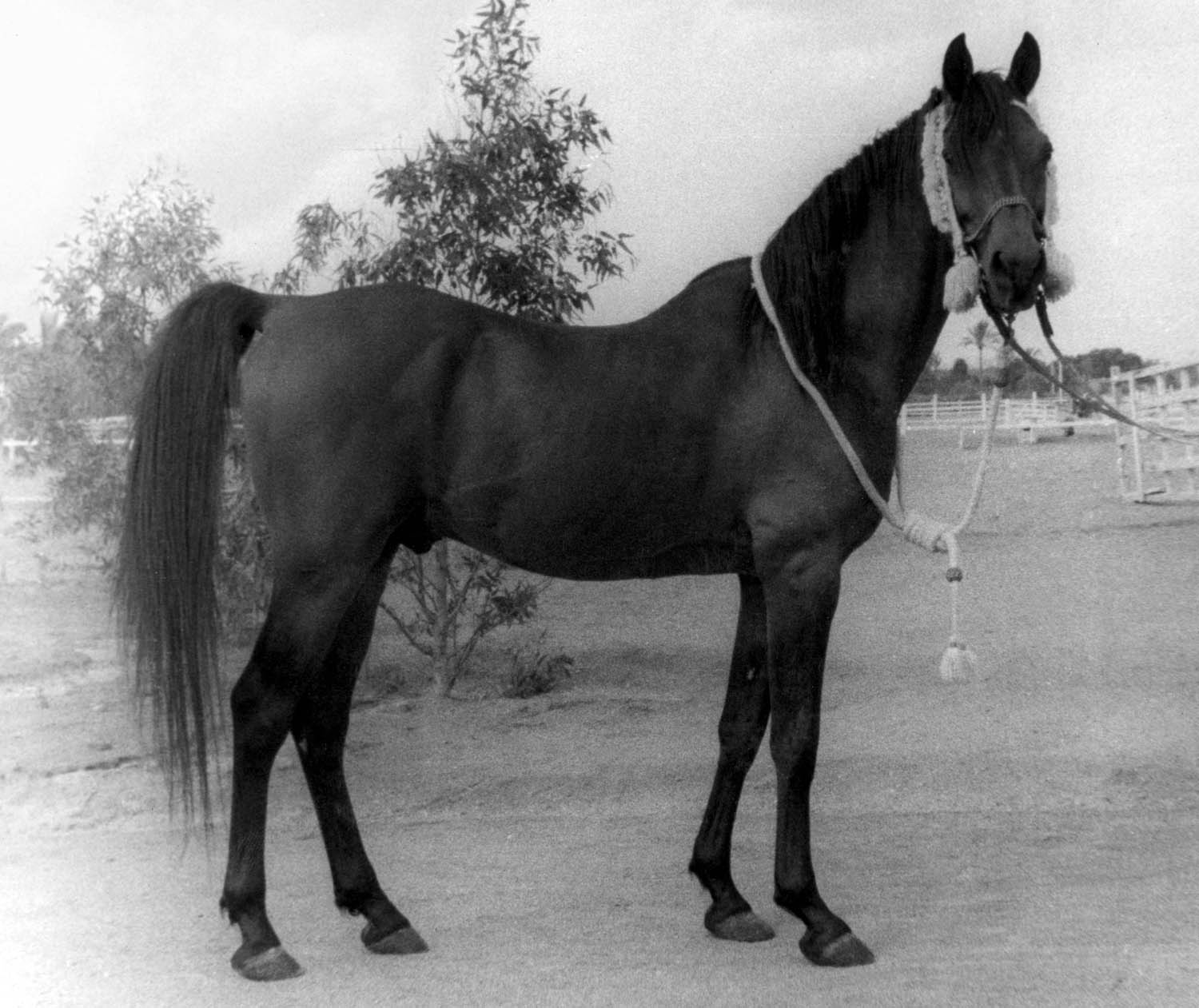 El Sareei, the handsome and charismatic Bint Radia grandson
who when bred to Moniet El Nefous produced the legendary Tuhotmos.
Judith Forbis photo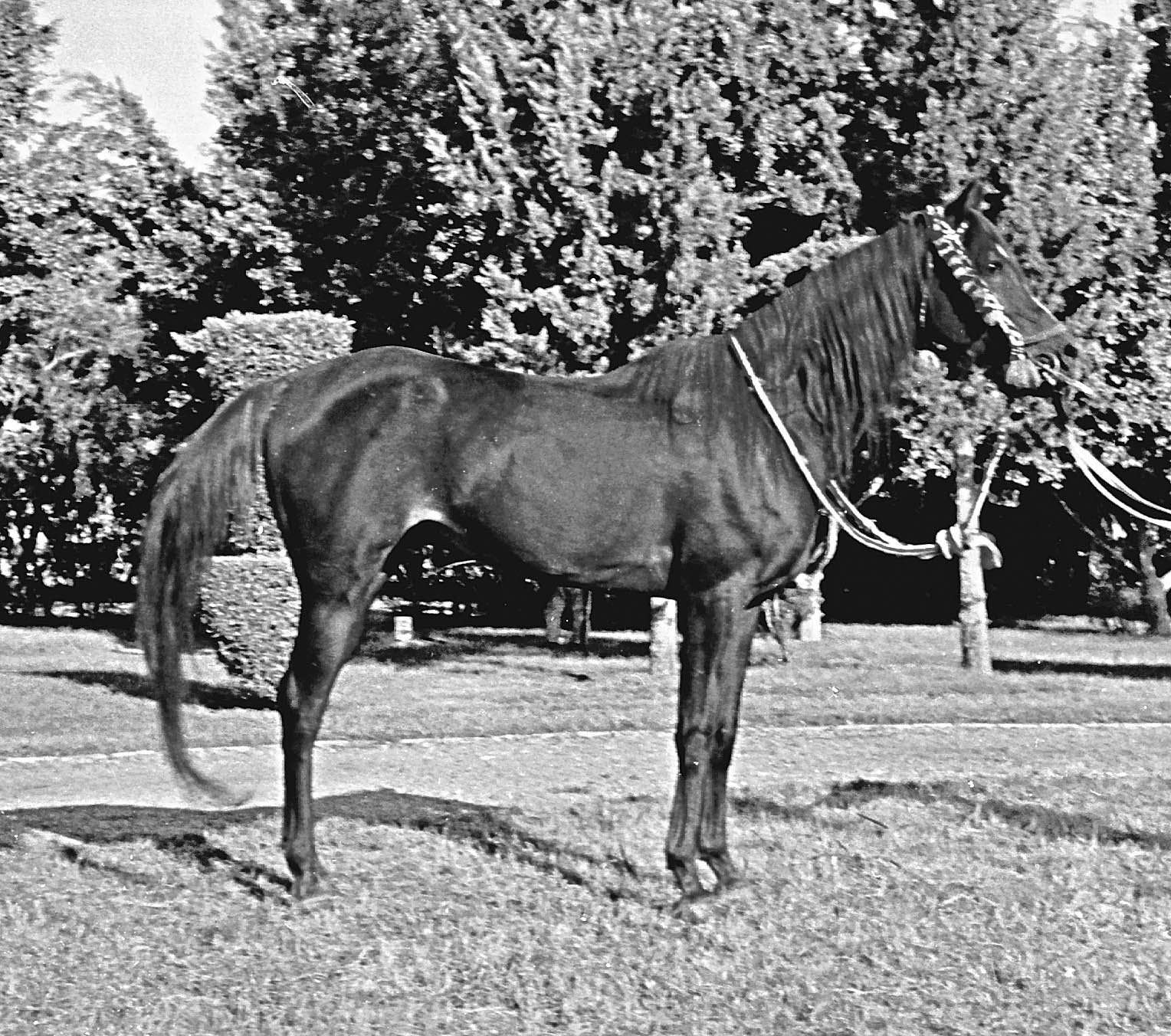 Alaa El Din, a spectacular horse out
of the Shahloul daughter Kateefa, and a fine sire of mares.
Fernando Saenz photo.



Back in 1958 Richard Pritzlaff imported to the U.S. Bint Moniet El Nefous (1 line to Shahloul), Bint Nefisa (1 line to Shahloul), and Bint Dahma (2 lines to Shahloul) introducing the Shahloul blood early into American breeding. Also Serenity Egyptian Stud imported the great Shahloul granddaughter SF Bint Mamlouka of international renown.


Another full sibling to Shahloul would emerge as one of the most beloved of all of Bint Radia's produce. It was the pearlescent stallion fit for a king named Hamdan (Ibn Rabdan x Bint Radia). He never seemed to take a bad picture and dignitaries from all over came to visit him in his prime when he became a chief sire for the Royal Inshass stud in Egypt. Hamdan sired more offspring than his brother Shahloul owing in part to his longevity living into very old age and the fact that he was heavily used at Inshass, and then became a foundation sire for Ahmed Hamza who named is Arabian stud after Hamdan.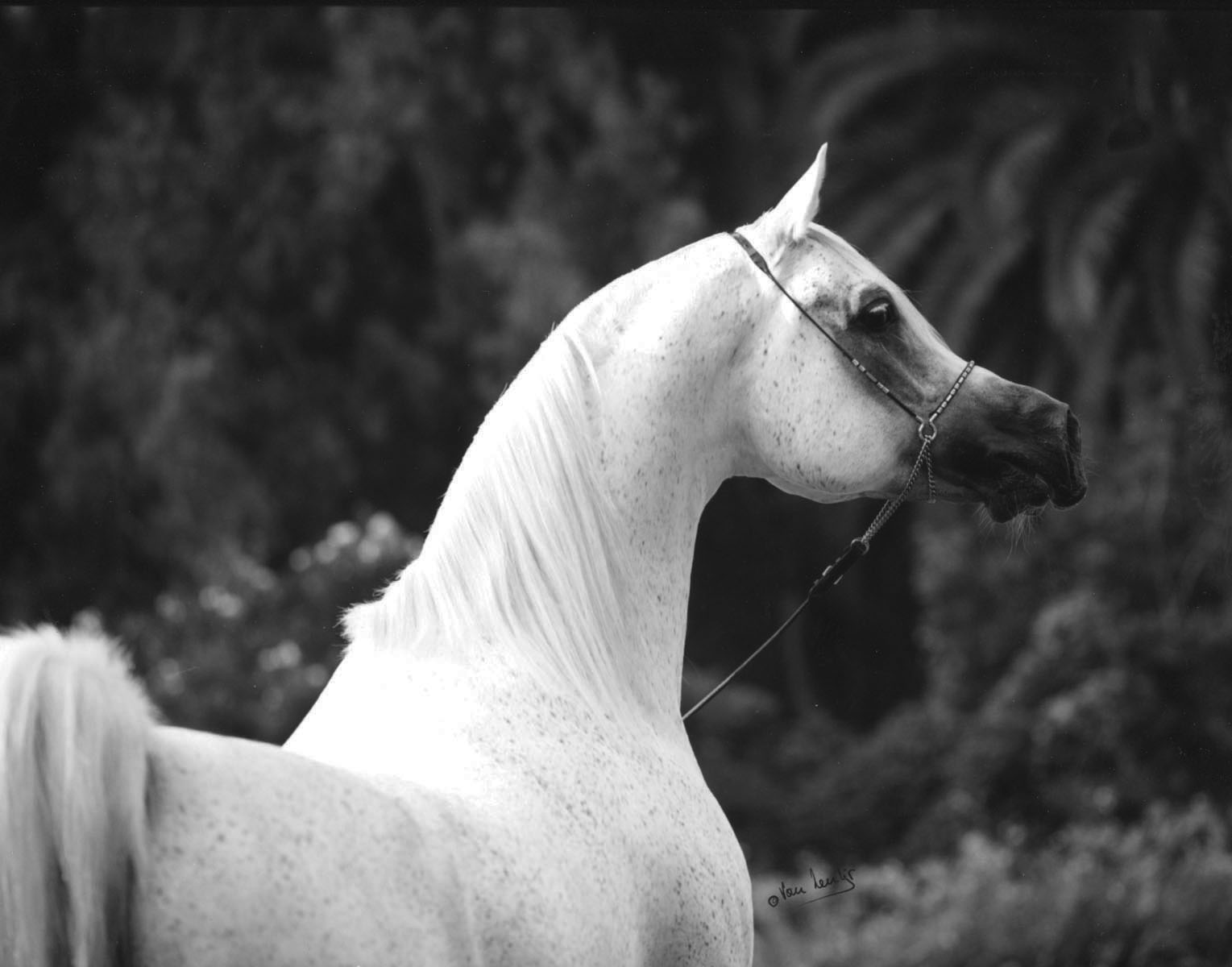 Imperial Madheen, sire of international renown
and the proud representative of the line to Mahiba (Alaa El Din x Mouna).
Rik VanLent Jr. photo.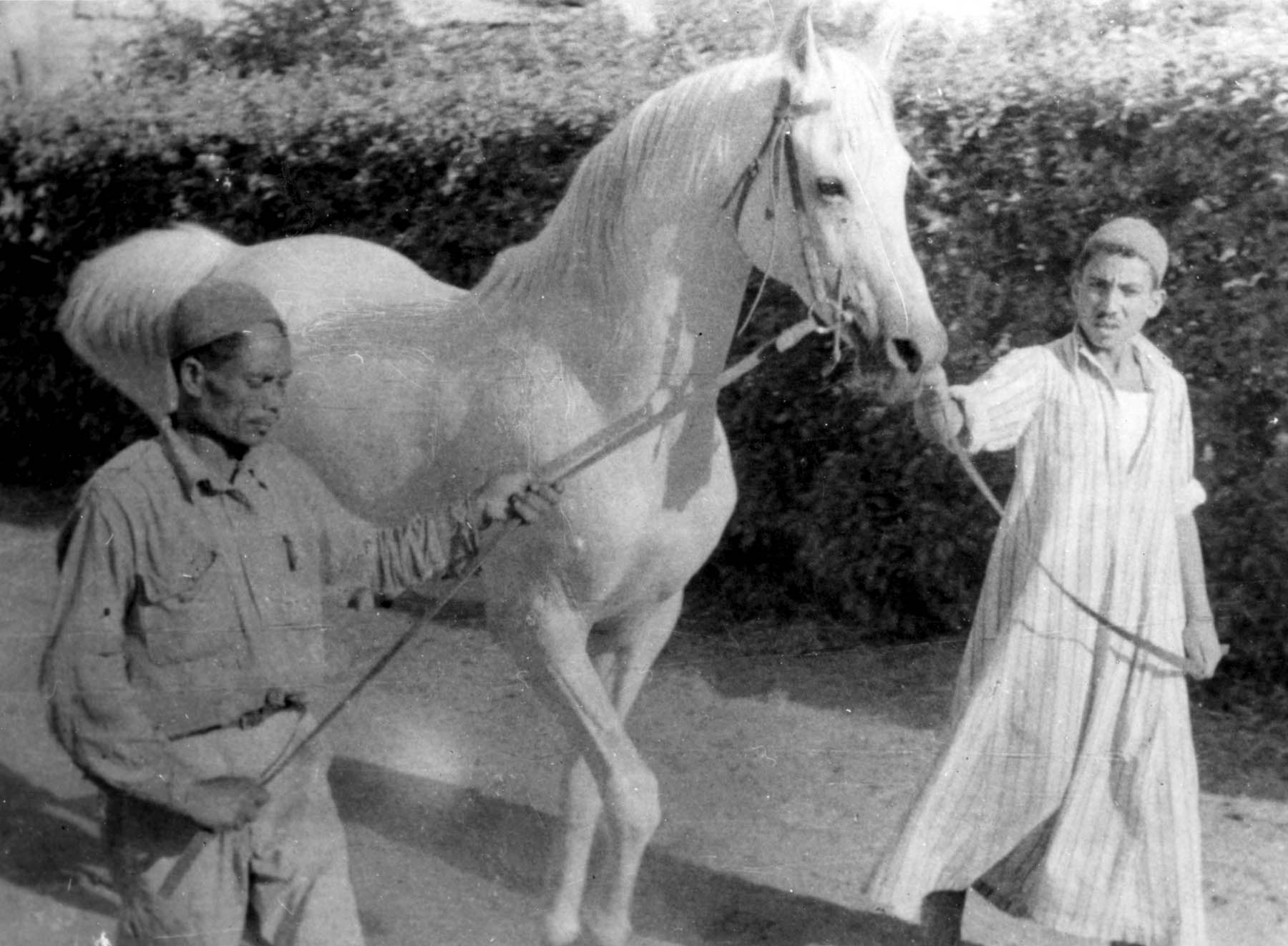 The king's horse, Hamdan, a full brother to Shahloul,
and chief sire at Inshass and later Ahmed Hamza's Hamdan Stud.
Forbis archive.



At Inshass Hamdan became a great sire of mares, in fact seldom even producing a male horse. Among Hamdan's celebrated daughters are Mahfouza (x El Mahrousa), the female line of the supreme Ruminaja Ali, Mahdia (x El Mahrousa) grandmother of the beloved Hanan in Europe and of the ethereal Bilal I chief sire at Shams El Asil stud in Egypt. Another very beautiful Hamdan daughter was Ameena, cornerstone of the coveted Omnia (x Alaa El Din) line noted for beautiful horses. Hamdan was even inbred to his own daughters at Inshass resulting in such fine producers as Hafiza, dam of sires Ibn Hafiza (x Sameh) and the spectacular El Araby (x Morafic).


At Inshass, the only son of great prominence sired by Hamdan was the handsome chestnut stallion Anter, who became a chief sire at the E.A.O. and one of the most heavily used. Anter sired many excellent mares such as Maysa (x Mahfouza) mother of renowned Magidaa; Nabilahh (x Farasha) dam of celebrated Khofo, and female line of Thee Desperado; the beautiful Kahramana, dam of numerous champions; and the excellent full sisters, Nagat, Somaia, Eman, Looza and the celebrated Adaweya, all by Anter and out of Abla.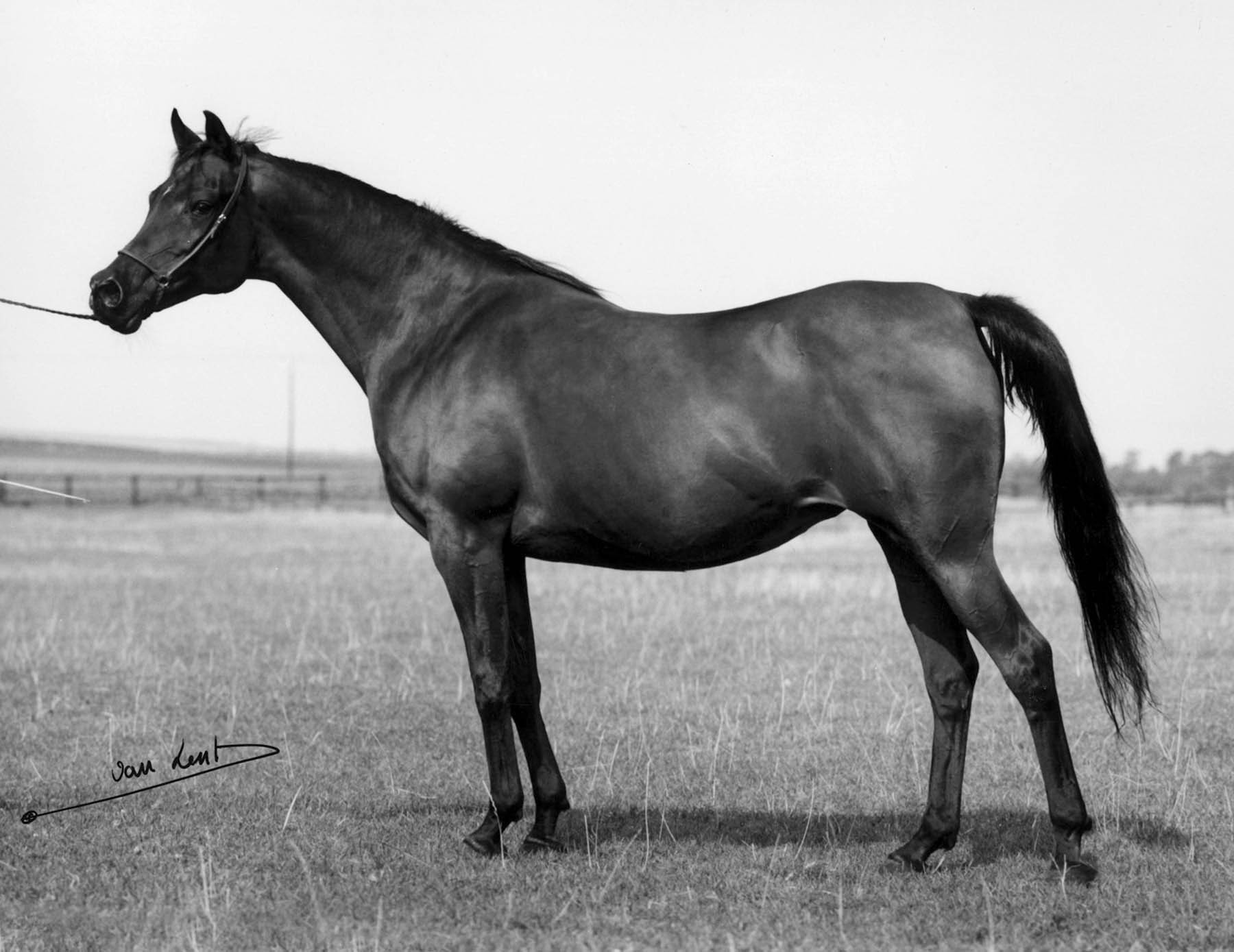 Broodmare supreme, Hanan (Alaa El Din x Mona INS)
combining Shahloul and Hamdan blood.
Rik Van Lent Jr. photo.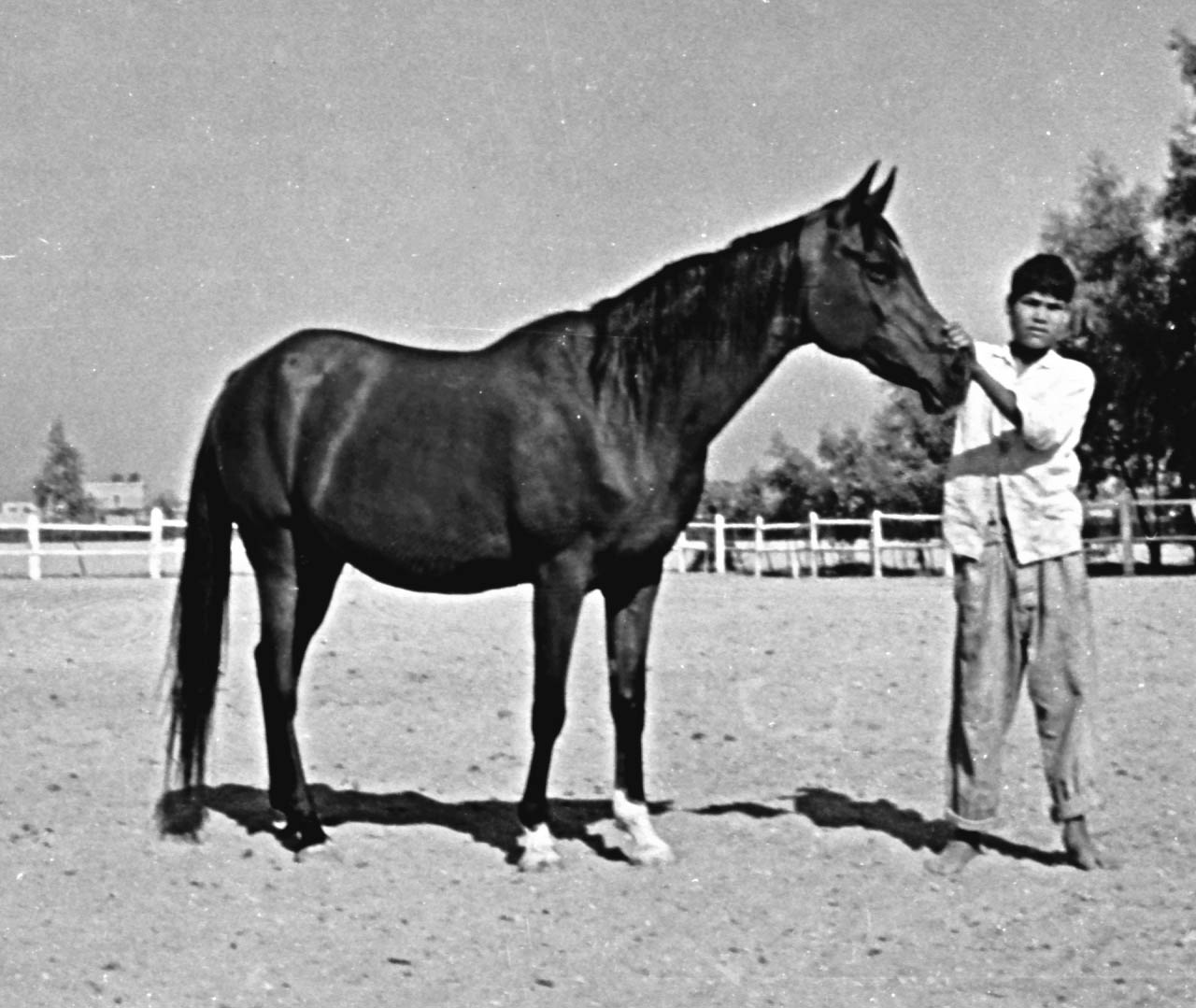 Hafiza, lovely Inshass bred mare who was inbred to Hamdan.
She produced Ibn Hafiza and the immortal El Araby.
Fernando Saenz photo.




As an aged stallion at Ahmed Hamza's stud, Hamdan sired the important mares, Bint Folla, Bint Folla II, Okt El Fol, and Bint Futna II, all from his foundation Tahawi mares. Bint Folla's full brother Hamdan II became an important Hamdan son in Europe. Hamdan also sired the excellent mare Bint Muneera, who produced the important European sire of champions Fakhr El Kheil. Bint Muneera's full sibling Fol Yasmeen (Hamdan x Muneera) was the only get of Hamdan to come directly to the U.S. and he sired 180 foals.
Considering the success of Shahloul and Hamdan, Bint Radia seemed to nick well with Ibn Rabdan so the breeding was repeated and the full sister Samira was born. Samira would become one of the two female branches of Bint Radia via her daughter Zaafarana.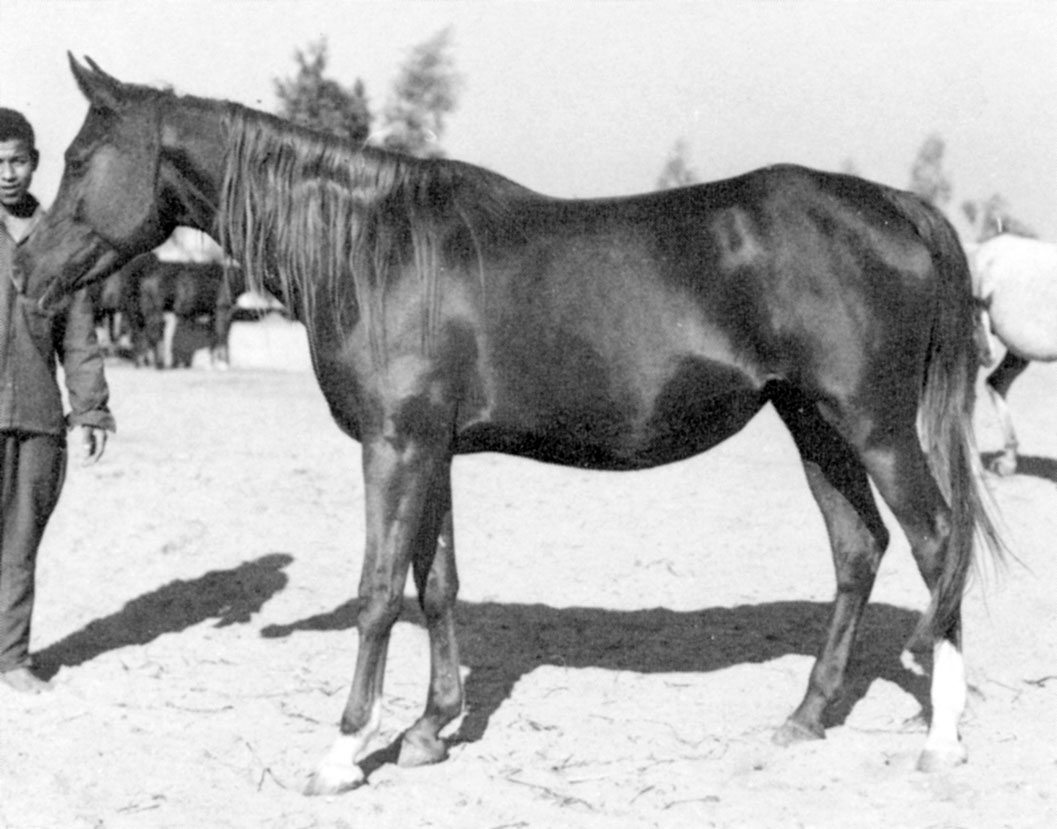 Maysa, another Inshass bred mare, by the Hamdan son Anter
and out of the Hamdan daughter Mahfouza.
Maysa founded a family in Egypt, Europe and North America,
yet is most famed for her daughter Magidaa's sons Ruminaja Ali and Alidaar.
Judith Forbis photo.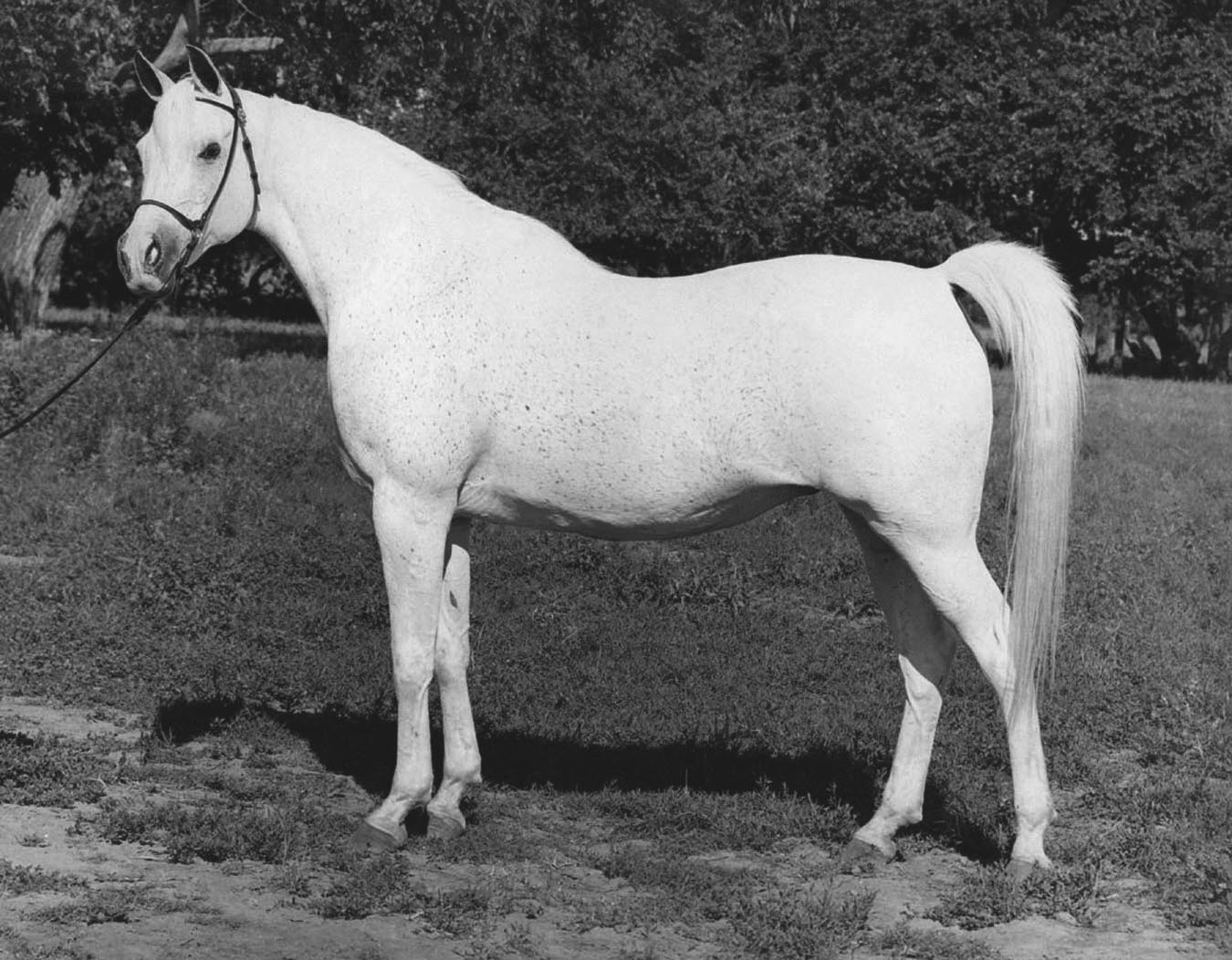 Ansata Bint Zaafarana, high quality representative
of the tail female to Bint Radia, via Zaafarana.
Imported to the U.S. in 1959 by Ansata and a champion
producing influence internationally.
Jerry Sparagowski photo.



Zaafarana proved to cross well with legendary Nazeer producing the racing winner Talal, imported to the U.S. and sire of many foals. Zaafarana also produced an important female line at Albadeia Stud via Talal's full sister El Ameera, a prolific line represented by many females but also the dam line of the spectacular World Champion Al Lahab.
Zaafarana's third success in crossing with Nazeer was the excellent broodmare Ansata Bint Zaafarana. In fact, Ansata Arabian stud, established over 50 years ago was founded with a great deal of Bint Radia influence, largely through Ansata Bint Mabrouka, Ansata Bint Zaafarana and Ansata Bint Bukra.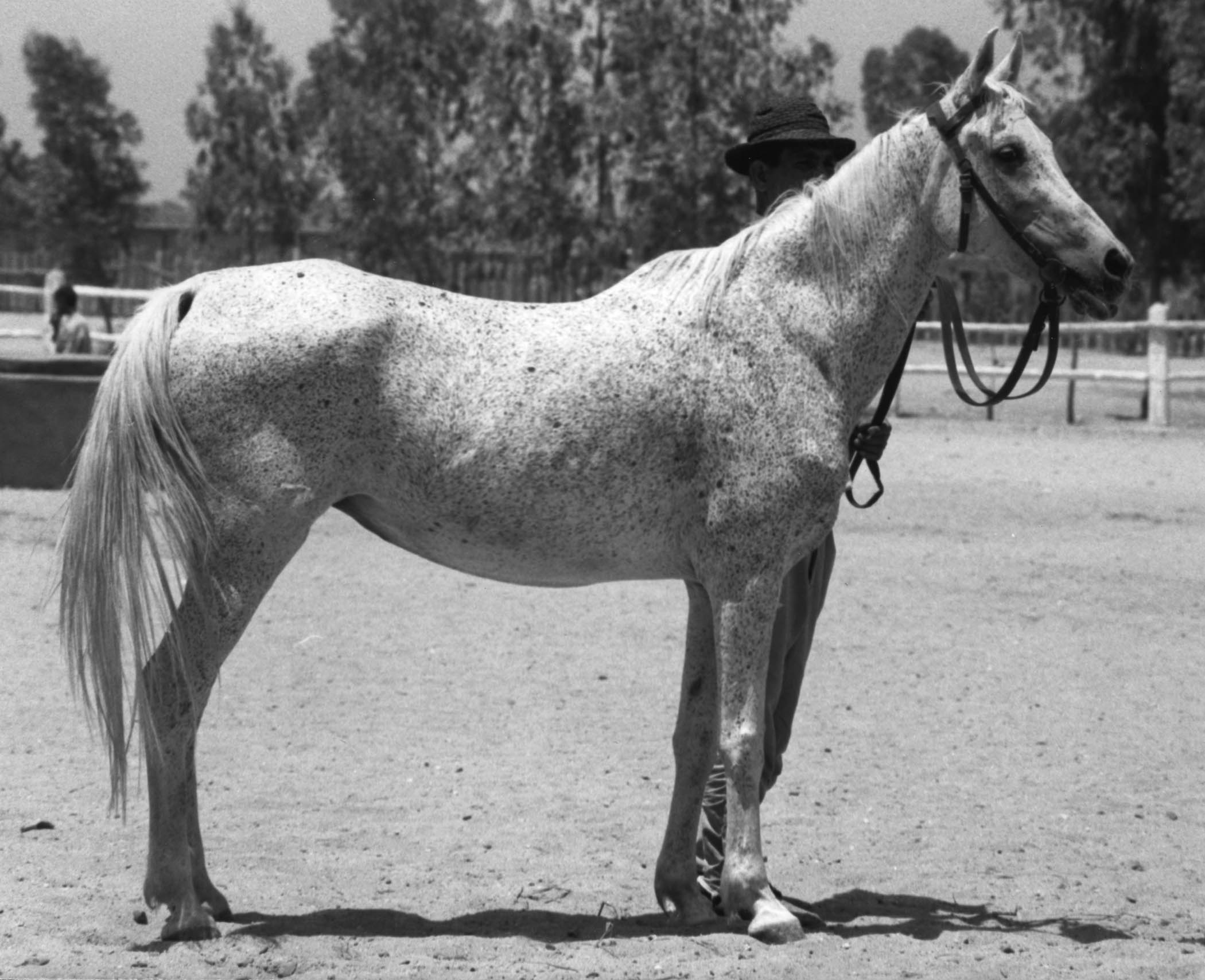 Saklawia II (Mashhour x Zamzam) granddaughter of Bint Radia,
and her sire is a grandson of Bint Radia.
Saklawia II is the dam of Salha and An Saaf.
Judith Forbis photo.



Bint Radia's other female line would be carried forward by the mare Zamzam (x Gamil III). Zamzam's 4 daughters all extend the Bint Radia family into Egyptian and Arabian breeding. Zamzam's daughter Kawsar (x Ibn Manial) established a family in North America via her granddaughter Hayam (whose grandsire was Shahloul), and in Europe via her great granddaughter Golson (whose sire is the double Shahloul stallion Tuhotmos).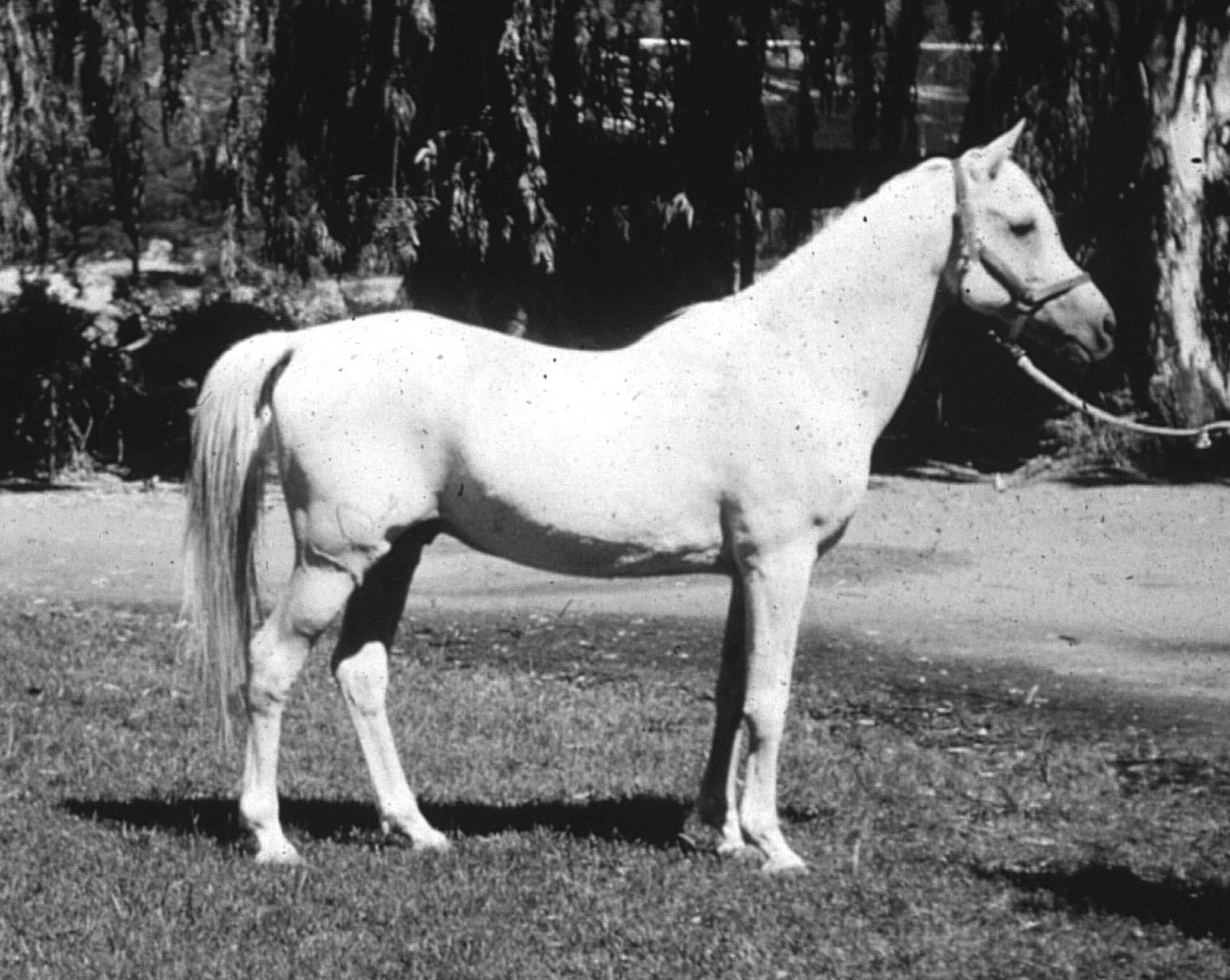 The handsome Fadell (Ibn Samhan x Bint Radia) the last foal of Bint Radia.
He was owned by King Farouk's mother Queen Nazli
and imported to the U.S. as an aged horse.
Judith Forbis photo.



Zamzam's daughter Nabila (x Enzahi) was exported to South Africa and is found today in numerous Egyptian horses there, and figures strongly in endurance and performance winners. Zamzam's daughter Atlus is granddam of Naglaa bred by Albadeia and she has established an international family in Europe, and North America. Zamzam's final daughter, the excellent mare Saklawia II (sired by the Shahloul son Mashhour), is dam of the European imported mares Salha (x Sameh) and An Saaf (x Nasralla).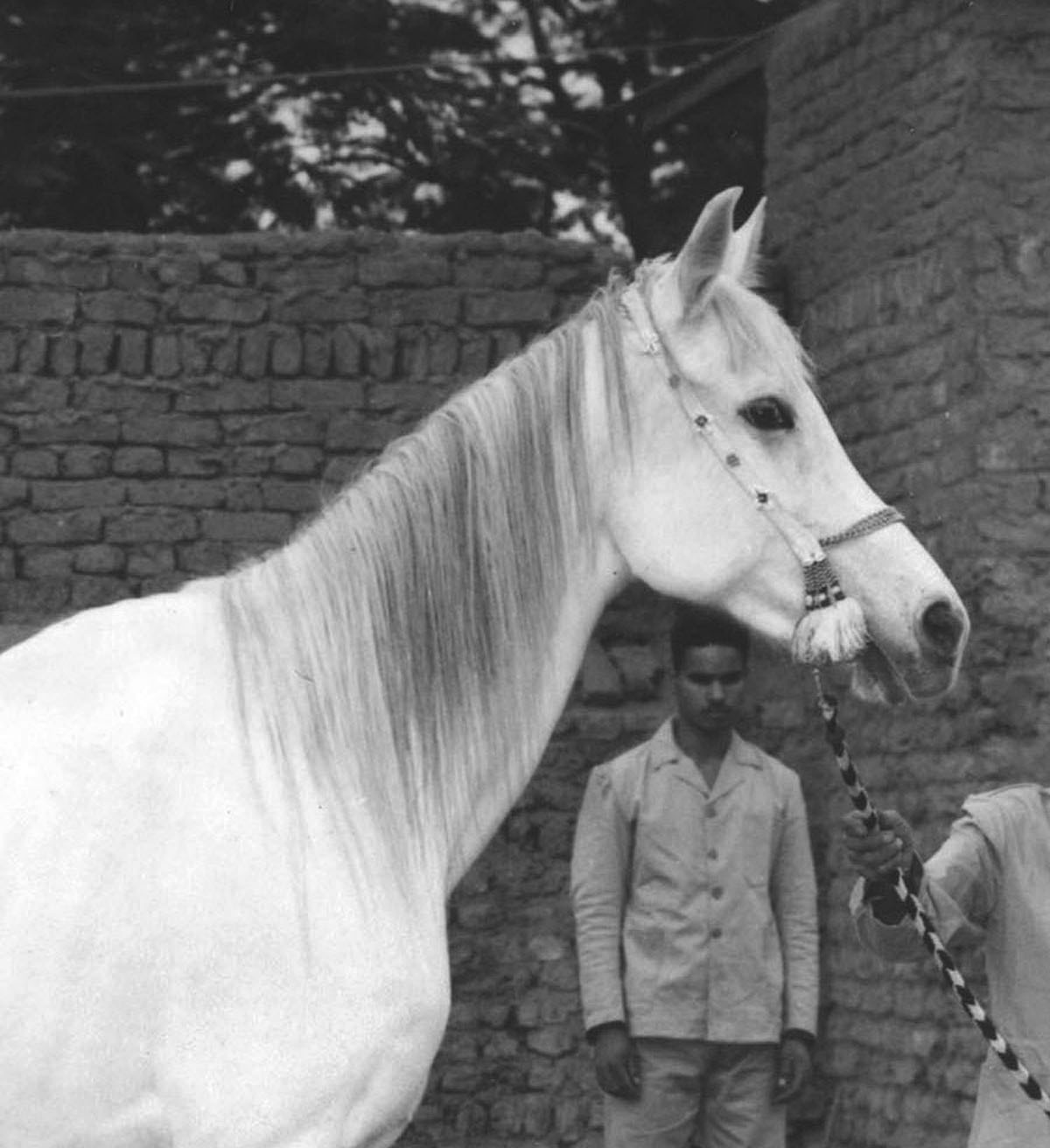 The lovely Hamdan daughter Bint Futna II bred by Ahmed Hamza.
Bint Futna II is a daughter of the Tahawi Kuhaylan Kallawia mare Futna.
She is the dam line of Israeli Reserve National champion Rowayah.
Judith Forbis photo.




Bint Radia's final foal was the handsome grey stallion Fadell (x Kheir), another of Bint Radia's produce worthy of royalty, being owned by King Farouk's mother Queen Nazli. In the early 1950s when Egypt's Monarchy was but a dwindling ember, Queen Nazli left for the U.S. settling in California and Doctor Alfred Godward assisted her becoming established in her new surroundings. The Queen brought with her 4 Arabians, among which was the handsome Fadell. Having left no foals in Egypt prior to his export, Fadell was already an aged stallion upon arrival and only sired 8 foals, 6 of which were from Egyptian mares. So his blood is fairly rare in the U.S. but still appreciated by those who own descendants.
In 1920 no one could have predicted the impact of the lovely grey mare Bint Radia, born during the early years of the R.A.S. But now history has been written. Bint Radia was a lovely representative of a prized heritage established by the breed's benefactors such as Prince Mohammed Ali and Lady Anne Blunt. They would certainly be proud to see how her legacy has blossomed.

Al Lahab, a charismatic World Champion who has benefited
from the legacy of Bint Radia.
He traces to her 41 times through all 5 of Shahloul's daughters
and both his sons, as well as 4 of Hamdan's daughters and his son Anter.
In addition he is tail female to Bint Radia.
Gigi Grasso photo.