I've often thought there is something very nice about the large family that descends from the RAS Egyptian mare Nefisa (Balance x Helwa). A Dahman Shahwan by strain, she was born on the heels of World War II in 1945. Nefisa was line bred to the legendary mare Farida, a line that is also famed for such greats as Ansata Ibn Halima and Anaza El Farid. Nefisa's sire Balance (Ibn Samhan x Farida) was certainly a superior race horse which resulted in a good many of his get finding their way into the racing community rather than becoming breeding stock at the RAS. However three sons and four daughters did carry his influence into present day Egyptians. Though Balance was a well-conformed horse, his head was less than ideal.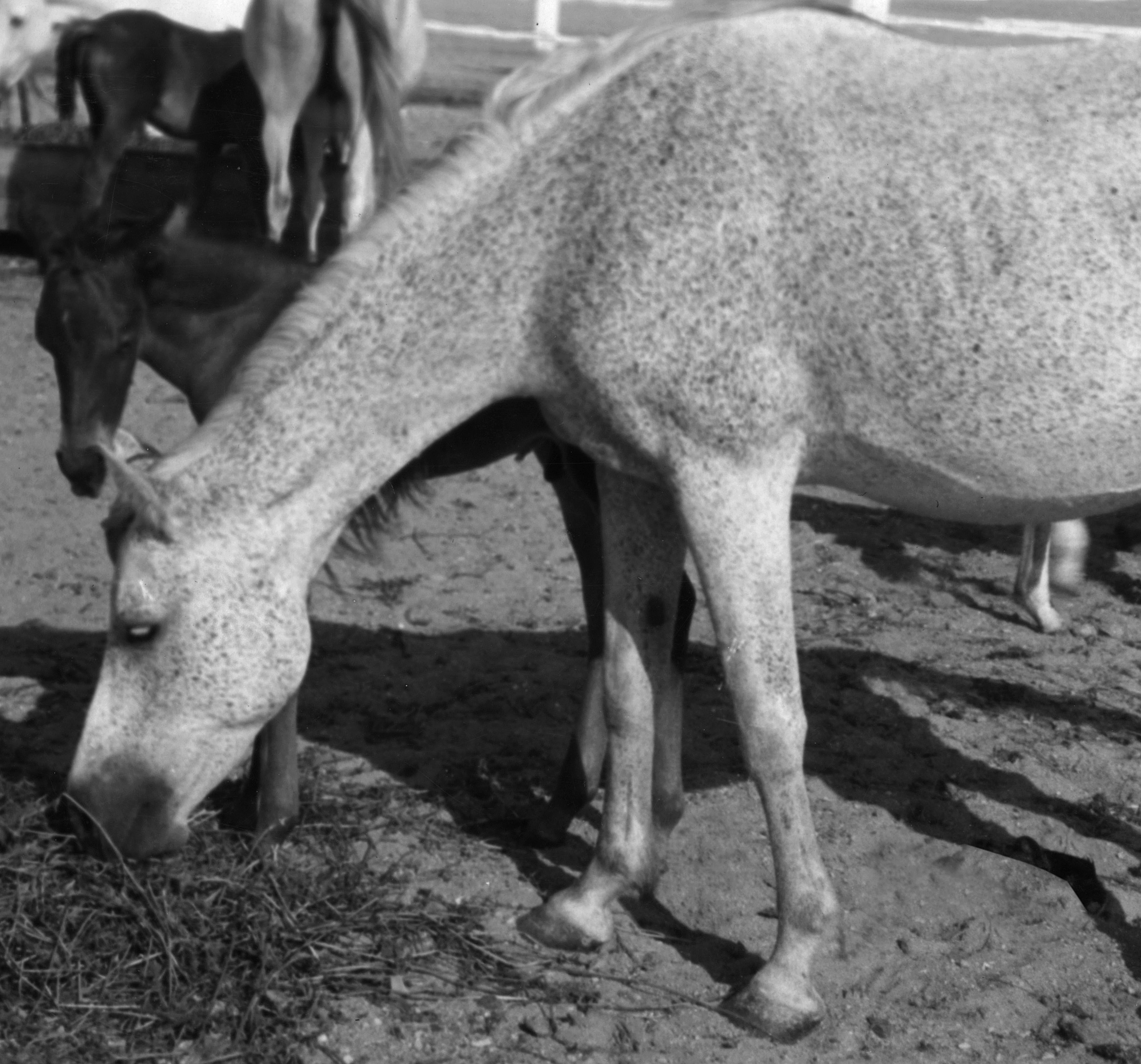 Nefisa (Balance x Helwa) 1945 grey mare.
She was an incubator of all things good.
Note her lovely long eyelashes.
Forbis photo.
Nefisa's mother Helwa (Hamran II x Bint Farida) was out of the beautiful Mansour daughter Bint Farida. This likely had a lot to do with the special look because Mansour could be counted on for classic type. Helwa was described as a mare of noble beauty, distinguished by her beautiful expressive eyes, large and dark, that seem to be a lingering trademark from this female line.

Nefisa herself was a small but fine mare. She displays those trademark expressive dark eyes with long eyelashes, sometimes described in Bedouin poetry. Though not much dish in her face owing to her sire Balance, the eyes were captivating and she featured the wonderful round sculptural jowls reminiscent of old 19th century paintings of desert Arabians. Blending all the right ingredients seemed to create a special look that became persistent coming down from Nefisa. She seemed to be an incubator of classic Arabian qualities.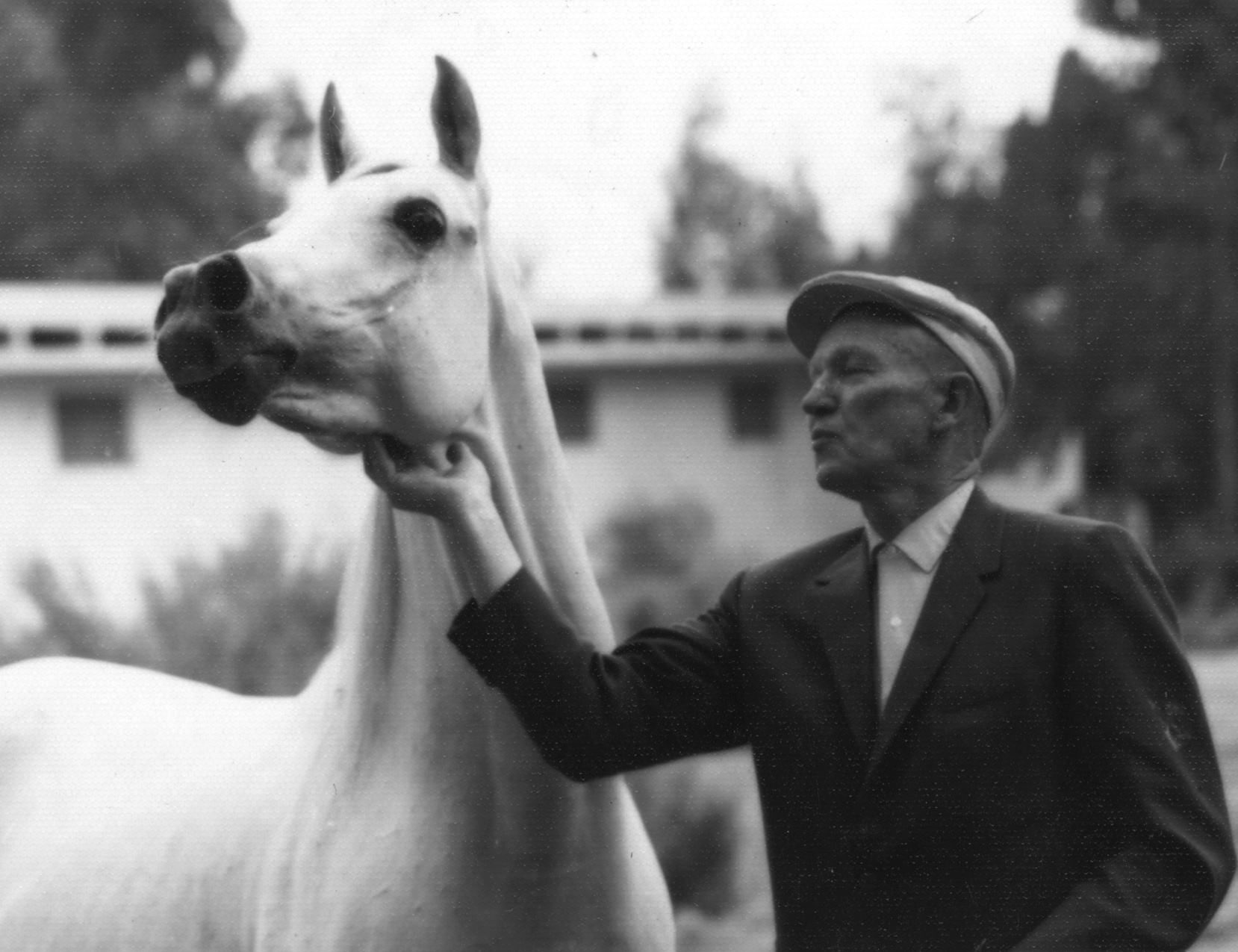 Ramses Fayek (Nazeer x Fayza II out of Nefisa) 1958 grey stallion,
pictured here in Egypt with Martin Loeber who imported him.
Note the trademark Nefisa eyes.
Forbis photo.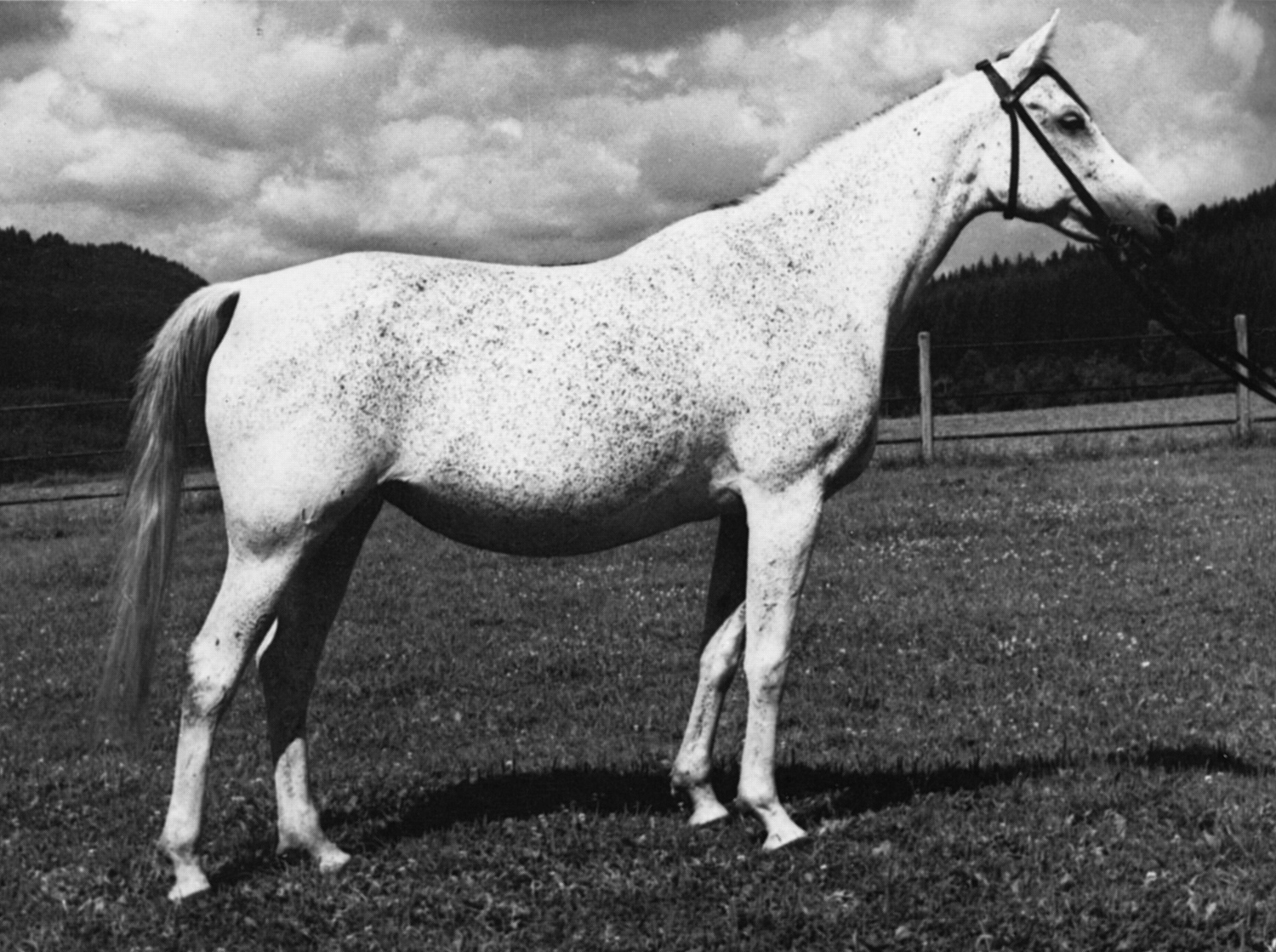 Nadja (Nazeer x Nefisa) 1955 grey mare.
Among the first Nazeer imports to Europe,
she became a fine broodmare at Weil-Marbach.
Photo: Weil-Marbach Studbook.


She had six foals, five of which have bred on. Her first daughter was Fayza II (x Sid Abouhom) whose legacy comes only from her sons. Most notable is Ramses Fayek (x Nazeer) called Fayek in Egypt. This Nazeer son was imported to the U.S. by Martin Loeber in 1970 and achieved much admiration, even among breeders of Polish Arabians. A horse of handsome proportions and conformation he also displayed the characteristic large dark eyes of the Nefisa line.


Nefisa's daughter Bint Nefisa (x El Sareei) was imported to the U.S. by Richard Pritzlaff. A bay mare, she was noted for her powerful compact form but also her large dark eyes and broad forehead and jowls. Visitors to the Pritzlaff farm were consistently impressed with horses of large dark eyes most of which could be traced to Bint Nefisa.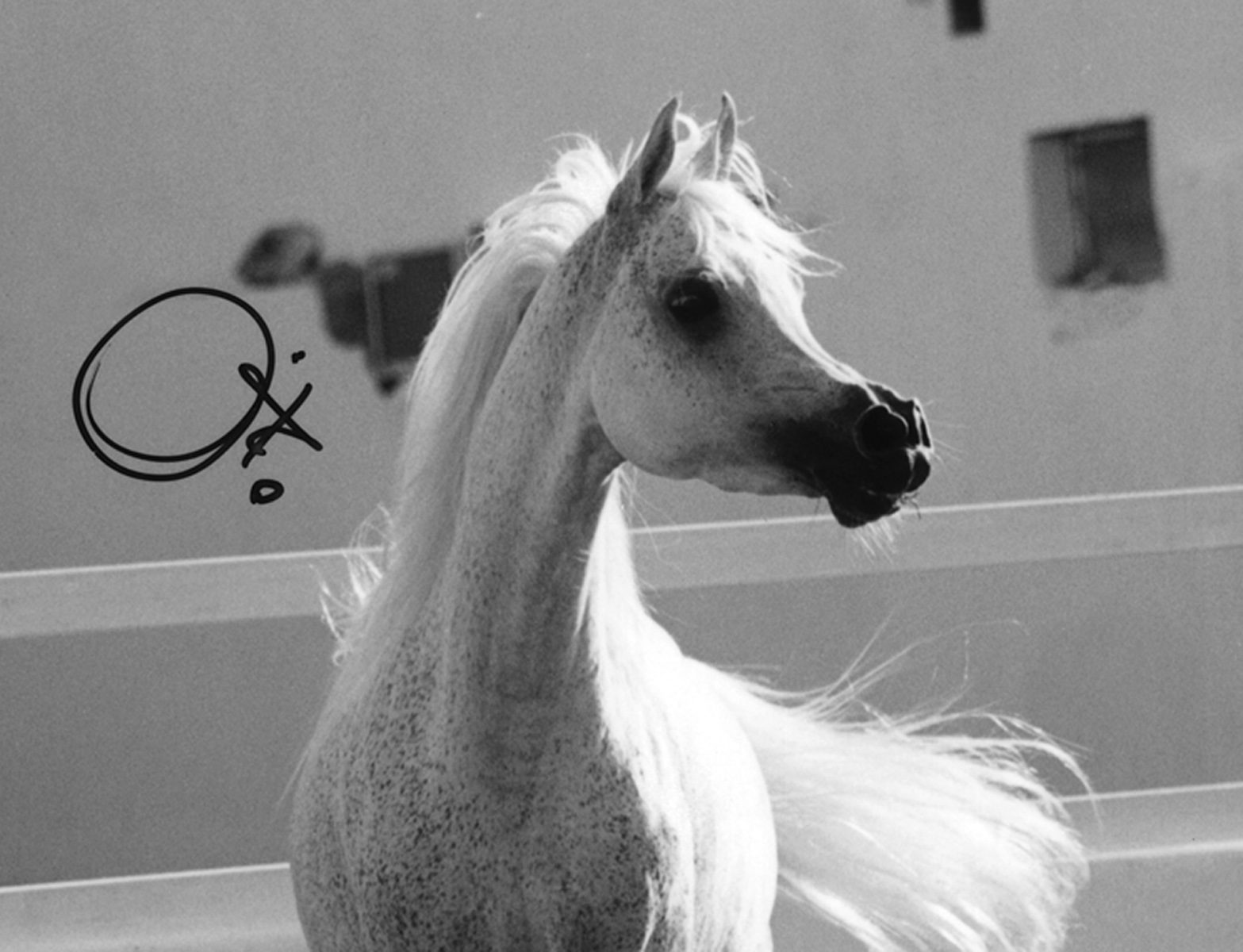 RN Farida (Salaa El Dine x Noha out of Nadja) 1995 grey mare.
A stunningly beautiful example of Nadja's line.
Gigi Grasso photo.
Nefisa's three daughters by Nazeer also made their mark. The first of these was Fatin whose daughter Jehan produced Bint Jehan, Paris World Reserve Champion mare. Jehan's son Mortadi was a sire at the E.A.O. The second Nazeer daughter out of Nefisa was Nadja who went to Weil-Marbach State Stud in Germany and built a fine family. Her most famous descendant is the remarkably beautiful RN Farida (Salaa El Dine x Noha x Nadja). Nefisa's third daughter by Nazeer was Bint Nefisaa imported to the U.S. by Gleannloch Farms. This lovely mare displayed the trademark large dark eyes. She nicked very well with Ansata Ibn Halima producing the exquisite mares, Nourah and Negmaa as well as legendary leading sire El Hilal, with many international champions tracing to him. Sire of 619 foals El Hilal has spread Nefisa's influence more widely than many of her contemporaries. I recall seeing El Hilal years ago and noticed that "old style" broad forehead with deep jowls and large dark eyes reminiscent of the old 19th century paintings. I saw his sister Negmaa when she was just a two year old and she also displayed those alluring eyes. Bint Nefisaa's daughter Moynese by Mohssen (Ansata Ibn Halima x Bint Mona) produced the lovely Ruminaja Ali daughter Ione, exported to Europe. Moynese was later exported to the U.K.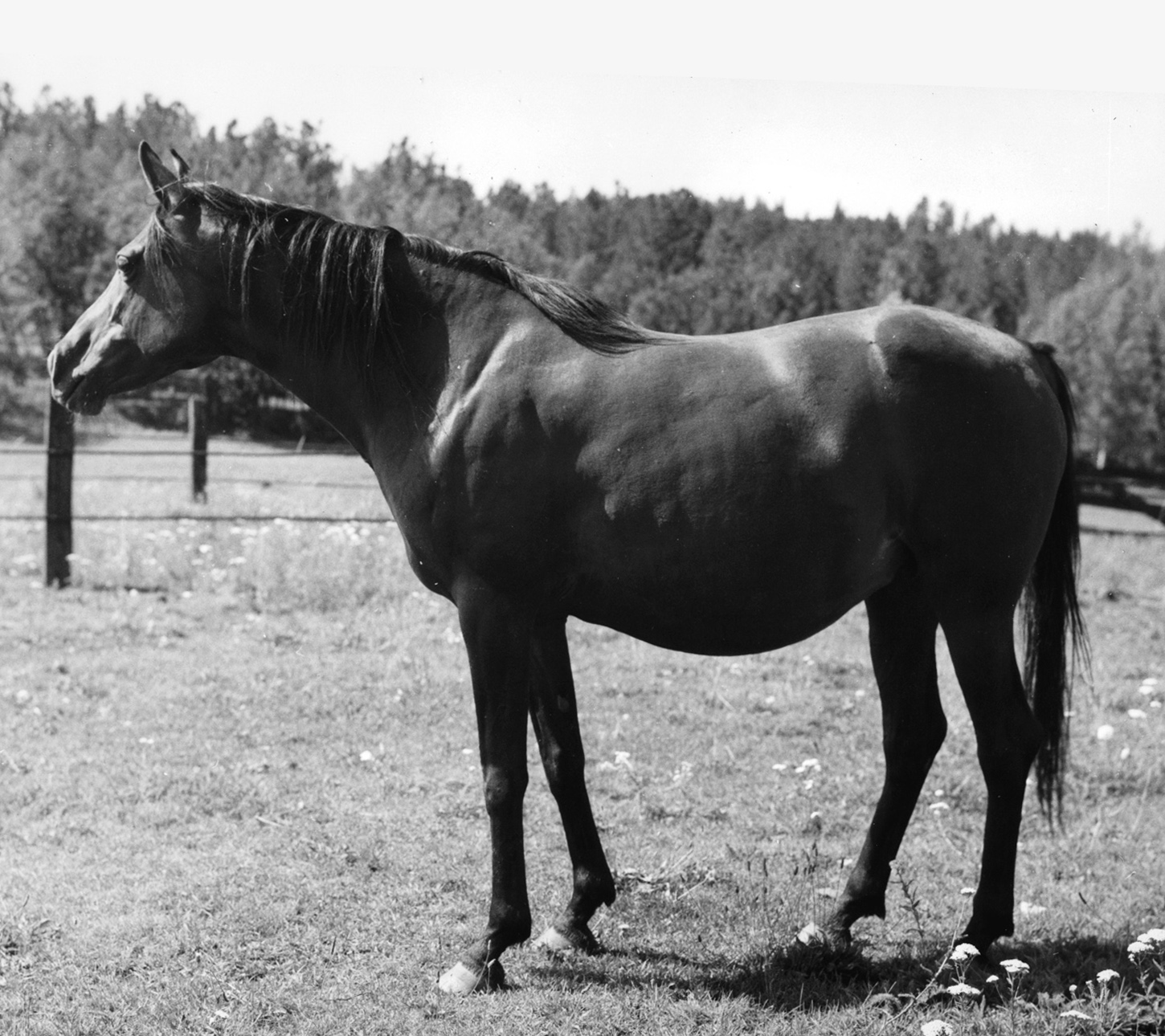 Bint Nefisa I (El Sareei x Nefisa) 1957 bay mare
imported to the U.S. by Richard Pritzlaff, shown here heavy in foal.
She had enormous large dark eyes and note the width between
her jowls like the old 19th century paintings.
Forbis photo.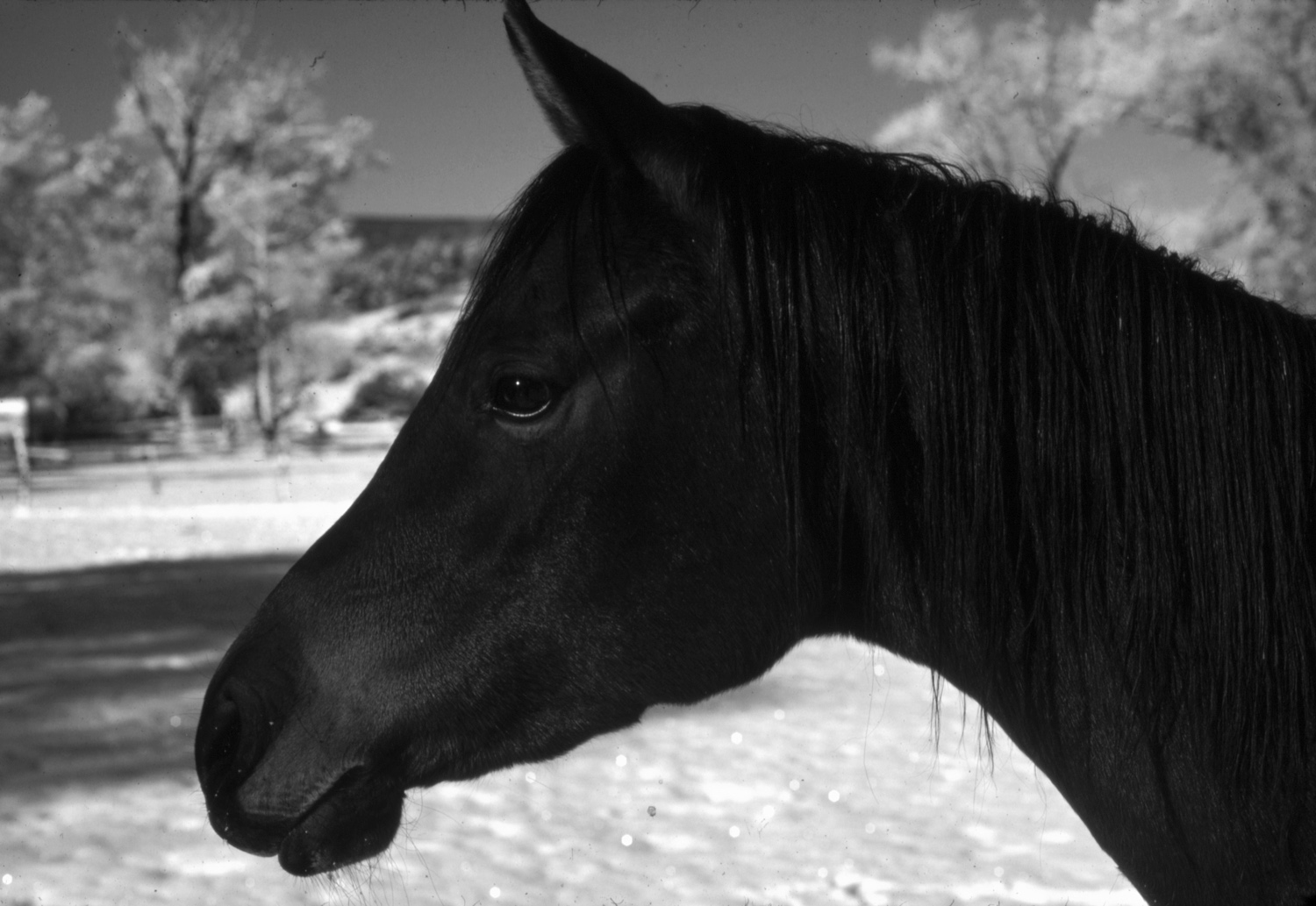 Balmoniet (Monietor-RSI x Bint Nefisa) 1974 bay mare.
A fine example of how the biggest eyes
in the Pritzlaff breeding program seemed to come from Bint Nefisa.
Photo: Melzac archive.




Three full siblings out of Bint Nefisaa: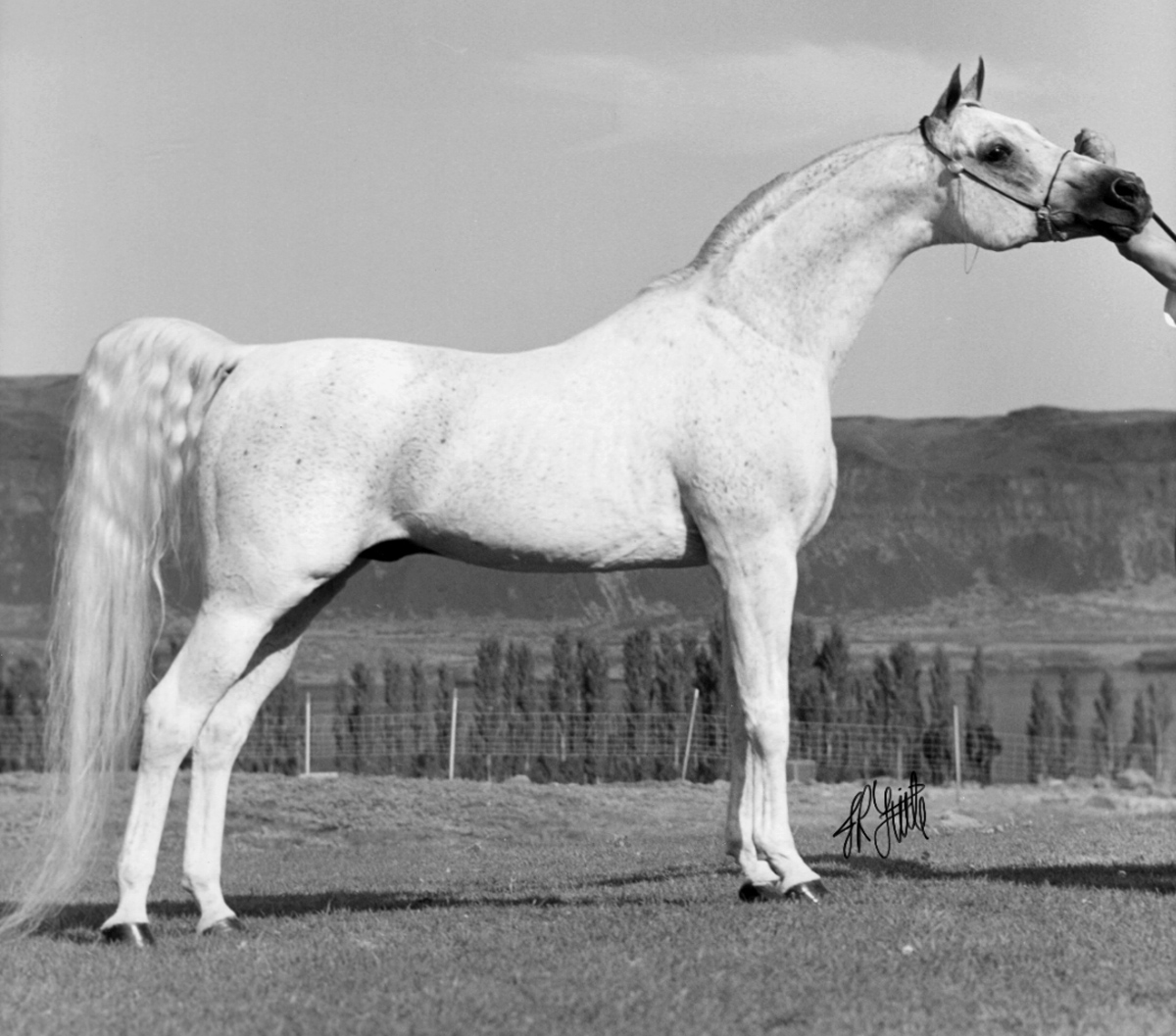 El Hilal (Ansata Ibn Halima x Bint Nefisaa) 1966 grey stallion.
An excellent champion sire and one of the
all time leading sires worldwide.
Jeff Little photo.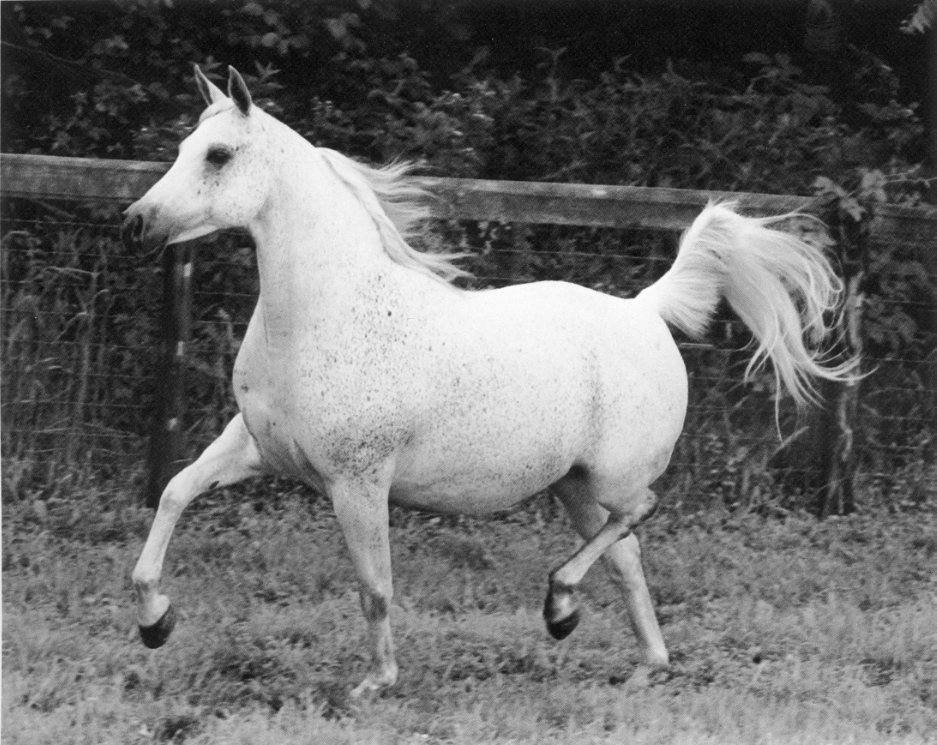 Negmaa (Ansata Ibn Halima x Bint Nefisaa) 1970 grey mare.
A beautiful full sister to El Hilal.
Photo: Forbis archive.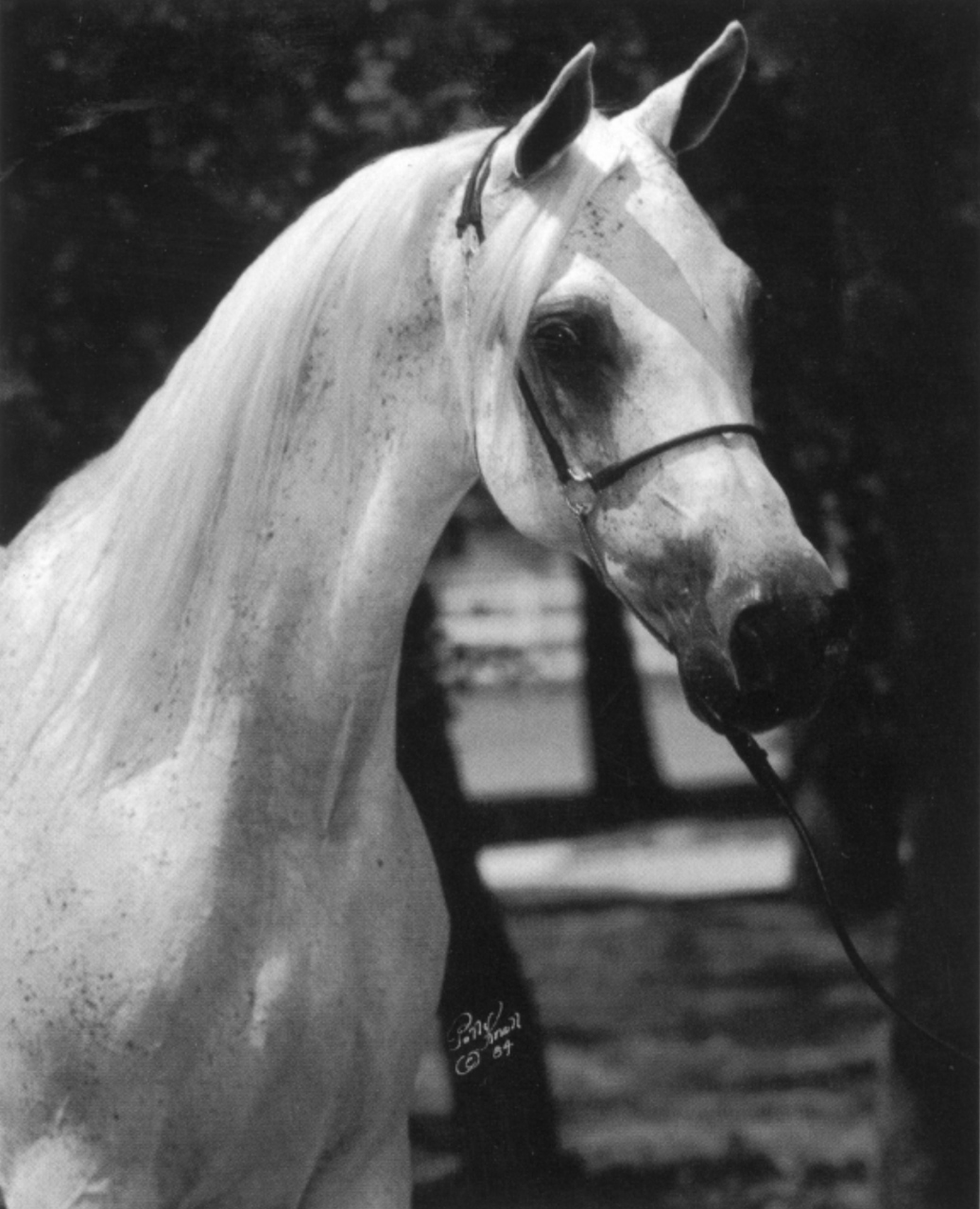 Nourah (Ansata Ibn Halima x Bint Nefisaa) 1971 grey mare.
Another full sister to El Hilal and one of Bint Nefisaa's finest.
Polly Knoll photo.
It has been said that the soul of the Arabian horse is first perceived through its eyes and if the eyes are a window to the soul, larger eyes are truly the most captivating. Maintaining this desirable feature can be allusive at times but whenever Nefisa is present in a pedigree there is something nice added and often it is seen through the long eyelashes of large expressive eyes.