Some names of our breed echo so clearly throughout history, no matter the line or type that you prefer or the discipline you ride.
Skowronek
, of course, is a household name of the arabian breed. He was foaled in 1908, bred by Count Józef Potocki - Antoniny Stud. Skowronek's name has a beautiful meaning in Polish - Skylark. Just like a Skylark, Skowronek was unmistakable, with unique characteristics. Well known for his own flight and song, Skowronek oozed arabian type, with a refined head and correct conformation.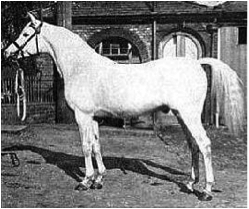 He was sired by the Syrian-bred Ibrahim, who was born in 1899 and imported to Antoninty in 1907. It was just 10 years later in 1917 that Ibrahim met his fate due to multiple breeding farms being destroyed during the Russian Revolution.
The real journey and interest of Skowronek began when he was imported to England in 1913 by Walter Winans, a famous American painter.
Walter had gone to Count Józef's stud to privately hunt game in Potocki's animal park. It was then he was introduced to Potocki's horses, by which he became immersed.
Upon recommendation he purchased Skowronek for £150, and it was with that he returned to England to seek his destiny.
Walter Winans used Skowronek as a model for several bronze works, as for this he was perfect. After this time, he was sold to Webb Wares who used him to hack, until he was eventually sold to HV Musgrave Clark. It was here he was shown and for the first time put to stud, which caught the attention of the honourable Lady Wentworth.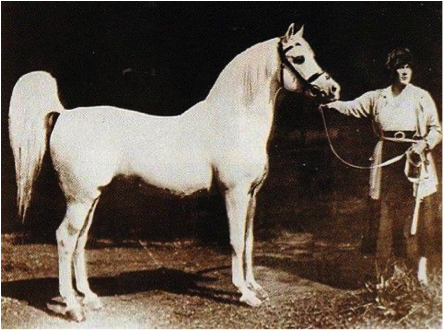 How Skowronek ended up in Lady Wentworth's ownership remains to be a little mysterious. Musgrave Clark was believed to be selling Skowronek to the US via an agent. But at the last minute, export was cancelled and it was Lady Wentworth who had turned out to be the new owner of Skowronek.
As Clark and Wentworth were rival breeders, some believe that Lady Wentworth may have used the export as a ruse, worried that if he had known he was selling to Wentworth he would've increased the price or refused to sell at all.
Clark was less than happy with Skowronek's new ownership and as a result the two breeders had a frosty relationship from that moment onwards.
Lady Wentworth was however absolutely delighted with the result and he soon became the foundation stallion for The Crabbet Stud, where he was used as an outcross and became extremely successful. He sired 46 foals in England and his offspring sold throughout Europe as well as Australia, Egypt, the Soviet Union and the United States.
It was whispered that the Tersk Stud in the then Soviet Union had reportedly offered $250,000 for the purchase of Skowronek which was quickly declined by Lady Wentworth.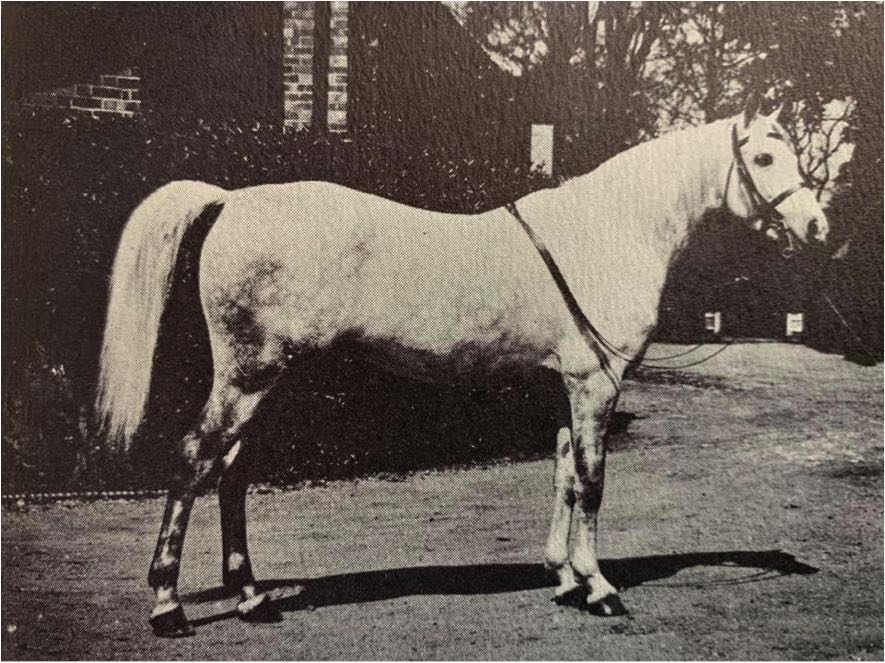 Lady Wentworth was delighted with Skowronek as a breeding stallion despite the controversy which existed surrounding his purity. Some would insist his sire, Ibrahim, was a Turkoman horse, or would have perhaps been crossed with a Thoroughbred as some questioned the purity of the Polish Stud books.
Some European Stud Books referred to horses by the location they were foaled, instead of their pedigree, which caused confusion from the Potocki quote describing his horses as "not desert bred" would be instead inferring that his horses were born in Poland.
Lady Wentworth unfortunately did not assist in making the purity claims any better by attempting to give Skowronek an Egyptian background, where she insisted that Ibrahim's sire and dam were of Egyptian breeding with lines belonging to Abbas Pasha's stud, which had no true basis. It was later on that Ibrahim's parents were identified from a Bedoiun tribe and family strain.
Below is a quote written by Count Roman Potocki, brother of Joseph which was written in the February edition of the 1958 'The Arabian Horse News':
"Ibrahim was purchased by my father, Count Joseph Potocki Sr, in 1907 from our agent horse dealer in Odessa who brought him by way of Constantinople from the Orient, not Egypt. Ibrahim had a note pedigree with his age, his sire, Heijer, and dam, Lafitte, noted on it. My father liked the horse very much. There is no further extension to his pedigree.
My father put him down in the Antoniny Sanguszko stud books as 'Or. Ar.'
Or. Ar means in Polish stud books "Original or desert Arab from Arabia." Ibrahim was always written down as Or. Ar in the Polish stud books without further ancestors. It was not customary to give the sires or dams of our desert importations in our stud books. They were always recorded as Or. Ar. The papers with his sire and dam, age, the business transaction, etc, were kept separately in our business files.
About 1920 when my brother Joseph, then in England, wrote out the pedigree of Skowronek for registration in the Arab Annex of Weatherby's General Stud Book, he included the names of Ibrahim's sire and dam, Heijer and Lafitte."



During his time with Lady Wentworth he was crossed with mostly daughters or granddaughters of Mesaoud. Mesaoud was another popular stallion for the foundation of Crabbet, and imported from Egypt to England by Lady Wentworth's parents, Wilfred and Lady Anne Blunt.
Upon his death in 1930 at the age of 22, Lady Wentworth donated his skull and hide to the British Museum in London. She had claimed that experts had attended his necropsy and they had found he had 17 pairs of ribs, 5 lumbar vertebrae and 16 tail vertebrae.


Influential direct progeny of Skowronek: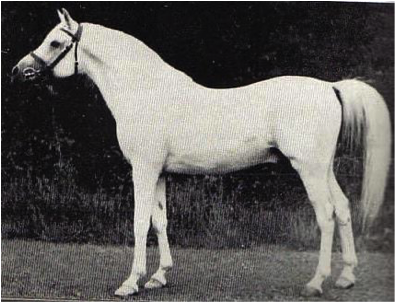 Rangoon (Skowronek x Rish)
Born in 1921 and said to be one of Skowronek's most lookalike stallions.
His line survives mostly in Australia.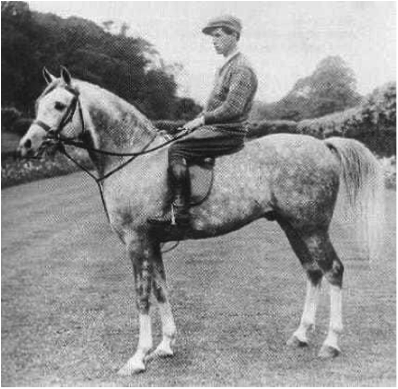 Naseem (Skowronek x Nasra) 1922 stallion
bred by Lady Wentworth and sold to the Tersk Stud in 1936.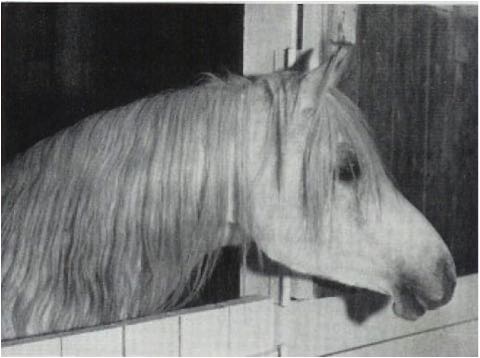 Raffles (Skowronek x Rifala)
Linebred Skowronek stallion, standing at just 13.3hh,
he was a complete powerhouse and after claims
of infertility managed to sire over 100 purebred foals.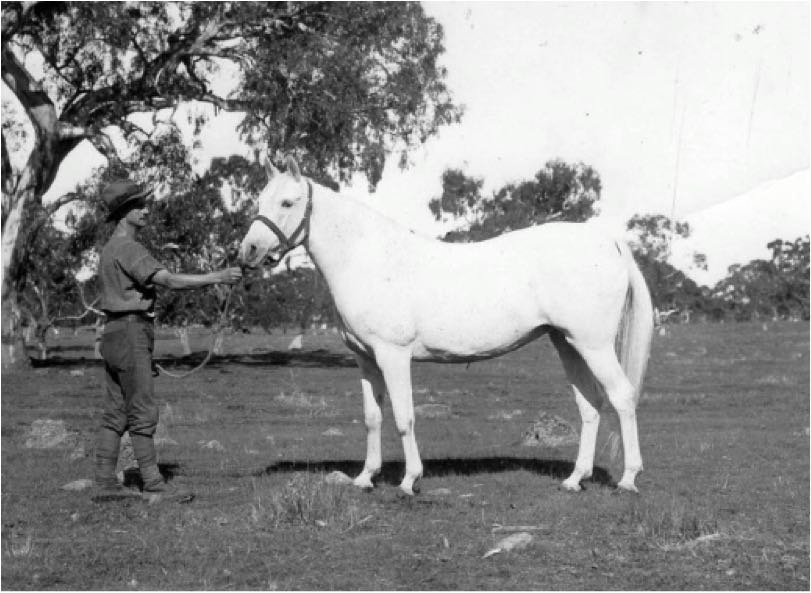 Nasirieh (Skowronek x Nisreen)
The only progeny of Skowronek to export to Australia.
There are an endless amount of horses that are now living, or have recently passed, yet are still producing their own legacy thanks to the blood of Skowronek, it would be absolutely impossible to name them all, but below I will share with you just a few: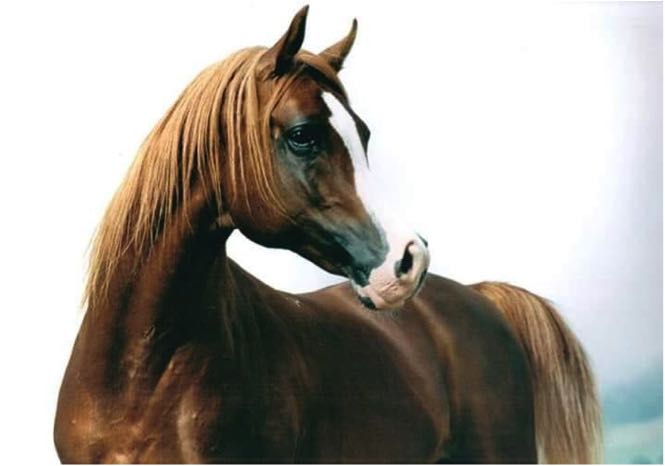 Kubinec (Balaton x Kosmetika)
a 1987 European and World Champion stallion
who traces back to Skowronek through Naseem.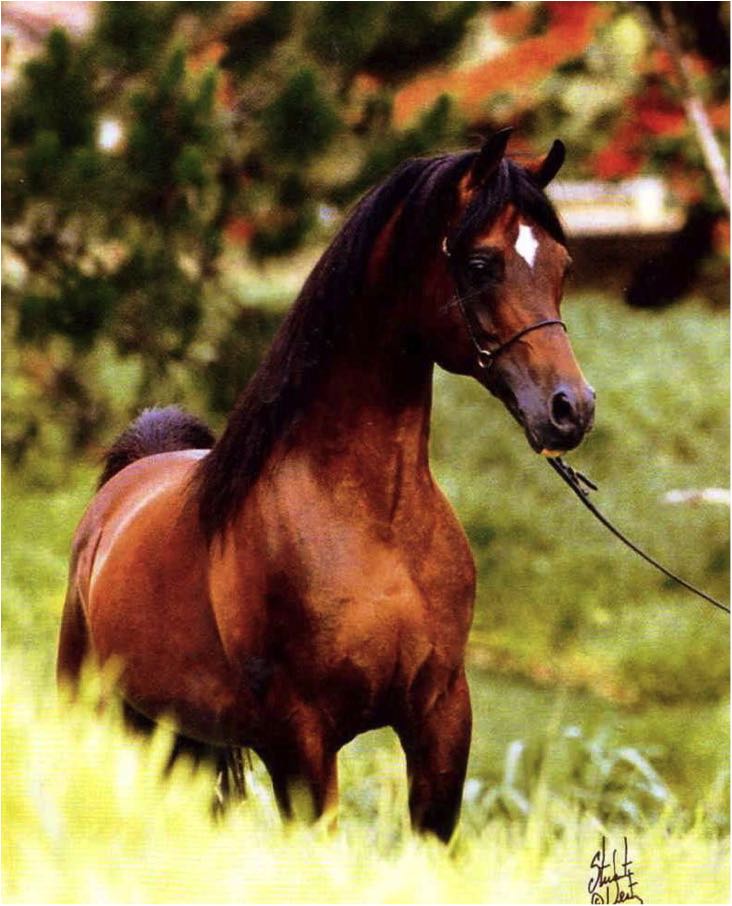 Ali Jamaal (Ruminaja Ali x Heritage Memory)
a 1982 legend exported from the US to Brazil in 1986.
Multiple Champion and sire of 378 foals.
Pictured by Stuart Vesty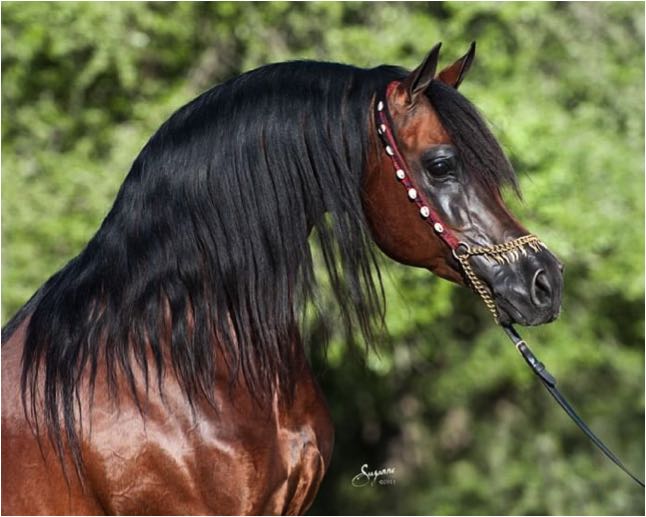 Needing no introduction, the magnificent
Marwan Al Shaqab (Gazal Al Shaqab x Little Liza Fame by Fame VF) 2000 Stallion,
multi champion and an unbeatable sire.
Tracing back to Skowronek through Nazeer.
Pictured by Suzanne Sturgill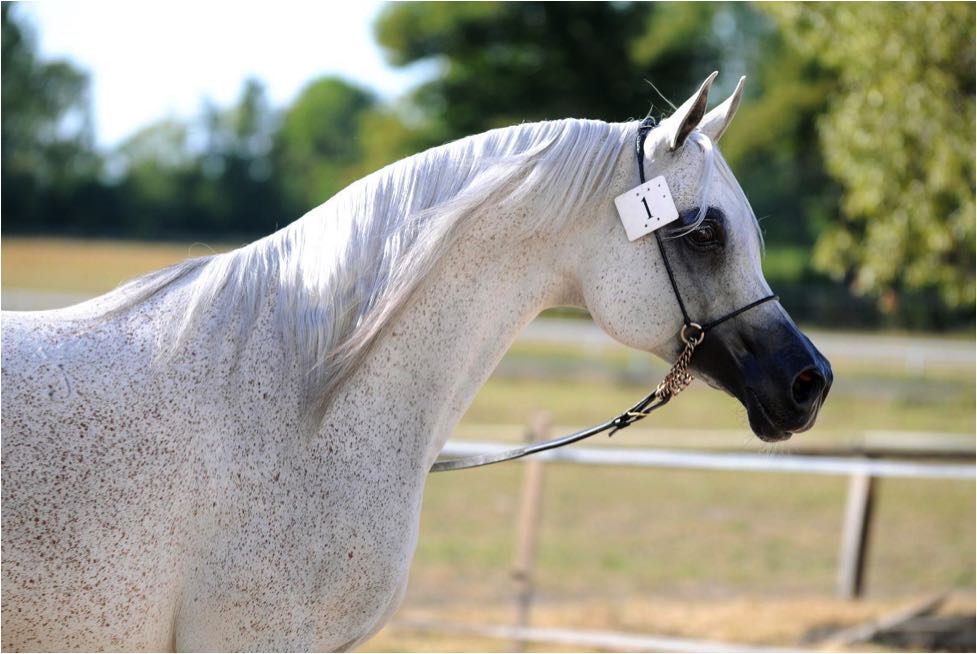 Pepita (Ekstern x *Pepesza by *Eukaliptus),
who sold at the 2015 Pride of Poland Auction for 1.4 million euros,
to her very proud owner Akmal Stud.
Able to prove her worth time and time again,
she carries multiple lines of Skowronek through Nazeer.
Pictured by Zuzanna Zajbt.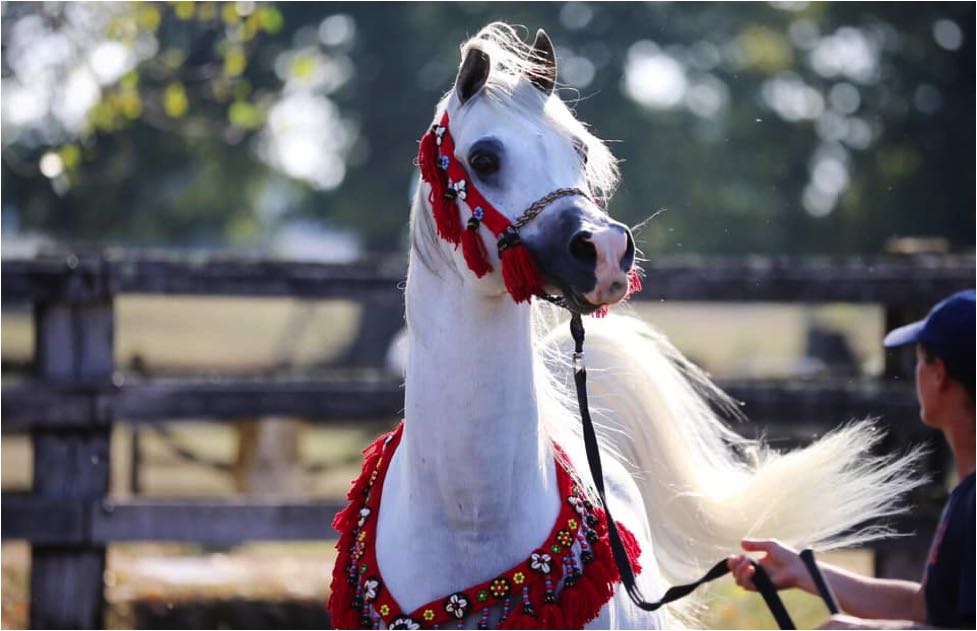 Sharahm (Gharam x Sorella by Wadim)
2008 super mover Sharahm, who captures the heart
and minds of everyone who meets him,
carries the blood of Skowronek on both his sire and dams side.
He himself a multi champion whilst siring special mates such
as Psyrella (x JB Psynderella by CE Magnum)
who is the mother of Supreme Champion, Kashef Al Shaqab.
Pictured by Johanna Ullstrom